Southern California is practically synonymous with action sports—and while some may not realize it, many of the companies driving that culture are in San Marcos.
"Because action sports are entrenched in the coastal lifestyle, I think there tends to be a misconception that all those companies are down by the beach," said San Marcos Economic Development Manager Tess Sangster. "San Marcos is proud to be home to action sports industry leaders, and I think most would be impressed by their caliber."
Case in point: Chris Christenson—largely considered one of the world's premiere surfboard shapers—runs his business, Christenson Surfboards, in San Marcos. It's one of the 22 action sports companies in the City that is providing more than 380 local jobs.
"I've noticed these companies are attracted to the fact that we're still near the coast, but more central and affordable," Sangster added.
That has been the case for snorkeling and diving gear company Ocean Reef, which recently made international news when its masks helped rescue a Thai soccer team from a partially flooded cave. While Ocean Reef has a presence in Europe for more than 70 years, it has been running its United States operation in San Marcos for 25 years.
"We assemble our diving masks here in San Marcos and sell them all over the world, so from a logistics standpoint, we like that the City is near major freeways," said Ocean Reef Operations Manager Lynne Dunn Snow, adding that the company invested in the City by purchasing its building 20 years ago. "And beyond that, we feel that the City values us. We've developed technology that has significantly advanced the scuba diving and snorkeling industries, and the City has recognized us with innovation honors for that. That's one of the many ways we feel valued here."
The City's profile and approach to local businesses are attracting new action sports companies, too. The action sports industry has grown 25 percent since 2010, according to data from Reference USA.
This has included companies such as Eminent Cycles, which launched its high-end mountain bike company in San Marcos a few months ago.
"We were attracted to the fact that San Marcos has a built-in cycling community and an amazing system of trails where we can test ride all our bikes," said Sales and Marketing Manager Paul Cusick. "We can even offer customers test rides right out our back door on the local trails."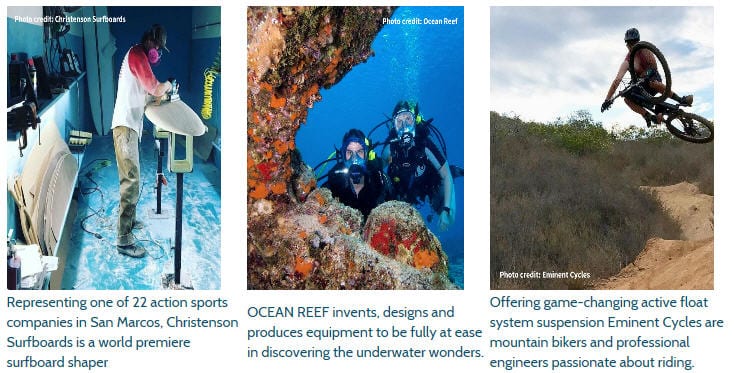 Eminent Cycles designs and assembles everything in San Marcos and though the company is young, it is already making its mark on the industry, he adds.
"We have a patent-pending suspension design that allows the rider to maintain better control over rough terrain. More control means more speed, which means more fun," Cusick said.
Collectively, these action sports companies not only boost the local quality of life—they also are an important part of the City's culture, Sangster says.
"San Marcos embraces innovation and many of our action sports companies are charting new territory," she says. "We are proud to be one of San Diego County's Live Well communities, which means placing an importance on active lifestyles. These companies support that priority
."
For more information about the City's economic development division, please contact Tess Sangster at TSangster@san-marcos.net or (760) 744-1050, ext. 3120.