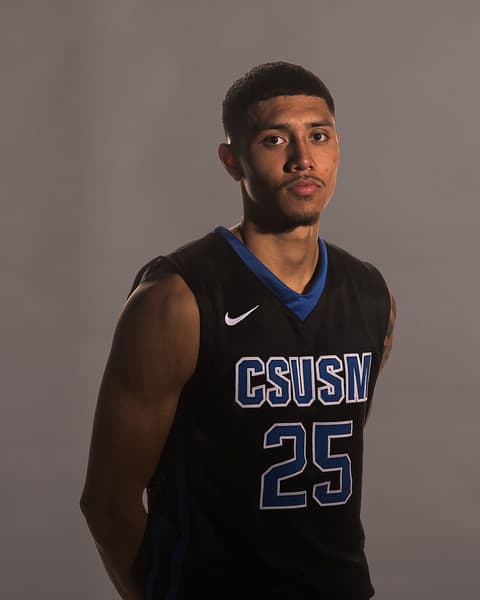 Alvano Reaches 1,000 Points; Cougars Fall to CSUSB, 94-88
SAN MARCOS, Calif. – Trailing by as many as 25 points with less than 10 minutes to play, the Cal State San Marcos men's basketball team cut the deficit to just one point with 20 seconds remaining before eventually falling to Cal State San Bernardino, 94-88, in California Collegiate Athletic Association (CCAA) play on Friday night in The Sports Center.
The loss snapped CSUSM's four-game win streak as the Cougars drop to 18-5 overall and 13-4 in CCAA action. The Coyotes improve to 12-10, 10-8 CCAA. CSUSM is now a half a game behind Cal Poly Pomona (14-4 CCAA) in the conference standings.
Senior Ethan Alvano scored a game-high 25 points including his 1,000th as a Cougar while classmate Tanner Waldrip finished with a season-high 16 points on 5-of-8 shooting in his 12 minutes off the bench.
The Coyotes shot a blistering 48.5 percent from the perimeter including 11-of-18 (61.11%) in the first half. For the game, they finished 31-of-66 from the field.
CSUSM bench outscored the Coyotes, 23-14, in the final five-minutes of play.
Ajon Efferson scored a team-high 23 points to lead CSUSB offensively.
CSUSM forced 17 turnovers on 11 steals including two each from Alvano and Waldrip.
For the second time this week, the Cougars will once again try to upend Cal Poly Pomona for the top spot in the CCAA standings. CSUSM took down the Broncos, 69-64, on Tuesday night in Pomona. The second Cougars-Broncos showdown will tip-off at 7:30 p.m. on Saturday, Feb. 10 in The Sports Center. The first 250 fans in attendance will receive a FREE CSUSM Tukwut Towel.