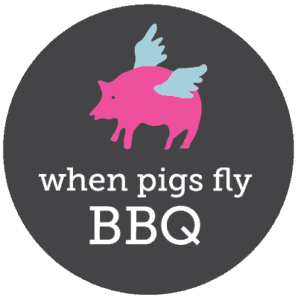 By Janene Forman
Picture wonderful BBQ being served out of a gas station. That is exactly how "When Pigs Fly" began three years ago on the outskirts of Vista. Today, they still have the gas station BBQ location, but have expanded to a walk-up eatery and family style take out in the heart of Vista on the fast-developing Main Street.
What used to be a wine maker/tasting room has become BBQ central with a fun, rustic atmosphere.
I am familiar with their food. I have ordered in the past from the gas station location, and the BBQ is great. I was excited when I found out they were expanding to the more centralized location.
The meat is full of smoky flavor and is very tender and delicious. They make three of their own BBQ sauces and have expanded their offerings to many sides you can order with the meat/meal. I always order the tri tip, one of my favorite BBQ meats. They didn't disappoint in the flavor or tenderness. My husband had the pulled chicken, his favorite. and said it was very tender and delicious as well. I really love the slow cooked mac and cheese (can be mushier than other types) but the flavor is great. The corn side is wonderful. I also liked the corn bread muffin. The coleslaw was fresh and cold, just the way I like it. They have a nice but small selection of local beer, which is a must when eating BBQ.
I want to say again, the BBQ here is wonderful. They know what they are doing in terms of cooking up amazing food. I do have a suggestion though that I hope will make it a more successful place and more enjoyable for everyone. For the dinner plates, I think the portions should be bigger. When you go to a BBQ restaurant, the expectation is to have larger portions. I feel especially for the sides, this could be an easy fix. The sides are served in a small white paper bowl (like they use at the fair) and although they were full, these are small, so if they are used, the sides should be heaping out of them, not barely full.
Another suggestion would be to give dine in patron's real silverware. While my husband had the pulled chicken, and really didn't need a real knife. I ordered tri-tip (given it was cut into smaller pieces) but I would have liked an actual knife to cut it. The plastic silverware is very small, and not very sturdy, and with the move towards more sustainable choices I think the actual silverware would be a great change.
I would suggest, if you go with a larger party, that you order from the family style menu and share several items. So basically, order ala carte, like the gas station location. You will undoubtedly will get larger portions and it will be fun to try everything they have to offer. I wish When Pigs Fly all the success in the world! I have been a local here for over 20 years, so seeing a business like this expand and do well is wonderful and exciting! Go to "When Pigs Fly" next time you are in Vista, or better yet, if you haven't seen the new Main Street in Vista, make a special trip to have the BBQ and walk around in this fun and vibrant part of town.
When Pigs Fly
Downtown Vista Location
230 Main St
Vista, CA 92084
(760) 295-7993
Foothill gas station location
1211 E Vista Way
Vista, CA 92084
760) 945-7828
Janene Forman