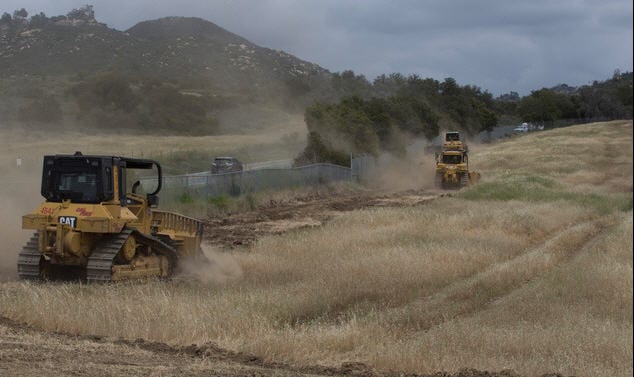 By Cpl. Dylan Chagnon | Marine Corps Base Camp Pendleton
MARINE CORPS BASE CAMP PENDLETON, Calif. —
With more than 125,000 acres of land, Marine Corps Base Camp Pendleton has a very diverse environment within its borders. When it comes to training, maintaining and protecting the environment is extremely important, especially during the wildfire season, where the environment is most susceptible to significant damage. But in some cases, it's beneficial.
According to Deborah Bieber, head of the Land Management section of the Environmental Security Department for MCB Camp Pendleton, studies show that there are certain instances in which controlled burns and traditional wildfires can make a positive impact on the environment by clearing areas to safely conduct training, clearing invasive plants loitering certain animals' habitats, and protecting endangered plant species.
"We do a lot of preventative measures … one of them being controlled burns," said Bieber. "We look for areas where the Marines need to train, but the way they're training may have a risk to cause a fire, so we'll go in and do a controlled burn to remove all the fuels so that the Marines can conduct their training."
While units aboard Camp Pendleton conduct training, they aren't the only ones who benefit from the controlled burning of overgrown grasslands.
The controlled-burn method is an effective tool in safely clearing out overgrown grasslands, freeing up some natural habitats, eliminating fuels from certain training areas to reduce the risk of a wildfire due to training, and ultimately preventing large-scale wildfires.
"As of late, our native grasslands have been overtaken by thatch, an invasive grass that overgrows and chokes up all of the grasslands, which are also home to three endangered species," Bieber said. "We'll then conduct a burn to get rid of all the thatch, so that the animals aren't forced to relocate."
Once a controlled burn or wildfire is fully extinguished, the Land Management section conducts what is called a, "post-wildfire habitat restoration." Once a fire has cleared, it will usually uncover large erosion scars, and once they complete a full survey of a burn area, Land Management will repair the erosion, and then begin to re-seed the burn area with vegetation.
"We plant certain grasses and plants to protect the ground from being overtaken by invasive grasses," said Gwen Kenney an ecologist with the Land Management section. "It also helps to make up for what was lost in the fire as well."
Uncontrolled wildfires however, pose a different situation. Last year, MCB Camp Pendleton suffered a total loss of approximately 15,500 acres due to uncontrolled wildfires. Understanding both sides of the fire line however, can not only improve the way we combat wildfires, but also determine opportunities to benefit the environment.
"I feel that what we do as a whole is important because we want the Marines to have a training event as realistic as possible," Bieber said. "While doing that, we also want to ensure that we protect all of the endangered species that call Camp Pendleton home