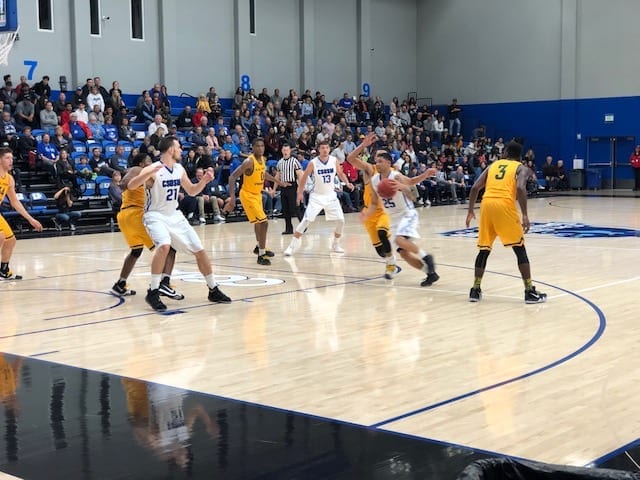 Cougars Fall to No. 23 Cal Poly Pomona, 69-63
2/10/2018 | Men's Basketball | Box Score
SAN MARCOS, Calif. – In a battle for first place of the California Collegiate Athletic Association (CCAA) standings, the Cal State San Marcos men's basketball team was defeated, 69-63, by Cal Poly Pomona on Saturday night in The Sports Center.
Following the loss, CSUSM drops to 18-6 overall and 13-5 in CCAA play while the Broncos improve to 18-5, 15-4 CCAA. The Cougars are now in a three-way tie for second place with Chico State and UC San Diego.
Senior Ethan Alvano finished team-highs of 17 points and seven assists. Classmate Joe Boyd totaled 14 points on 7-of-9 shooting in addition to his seven rebounds in the game.
Despite CSUSM outshooting the Broncos (42.9 to 37.5) in the first half, CPP took a 32-27 lead into halftime.
CLICK ON ANY PHOTO TO OPEH GALLERY
The Cougars' trailed by as many as 12 points with 13:43 left in the second half. After a 3-pointer from senior Josh Spiers cut the deficit to nine, CSUSM would then go on a 10-2 run capped by a 3-pointer from Alvano to give the Cougars a 51-50 lead with 8:29 remaining. This was the Cougars' first lead since 17:39 in the opening half when they led 4-2.
CSUSM would again get the lead back within three points, but a CPP layup from Quentin Taylor made it a five-point score at 66-61 with just 1:05 left to play to secure the win for the Broncos.
The Cougars won the points in the paint battle with a 34-22 advantage despite being outrebounded 39-36 for the game.
CPP was led offensively from Taylor who finished with a team-high 16 points while also dishing out four assists and six rebounds.
The Cougars will hit the road next week as they travel to take on CCAA opponent Humboldt State on Thursday, Feb. 15. Tip-off is slated for 7:30 p.m.