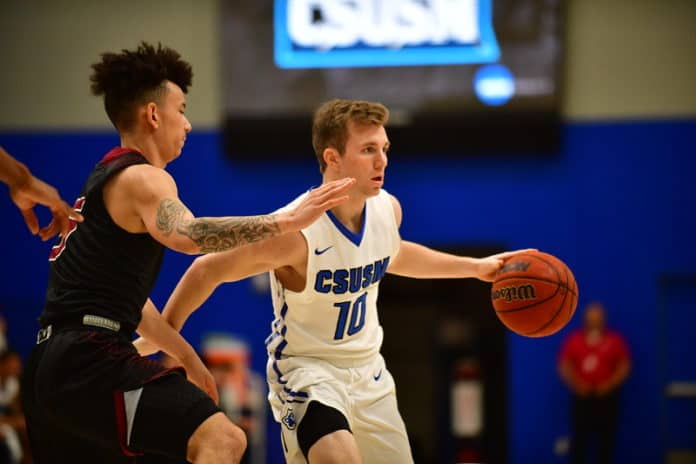 SEASIDE, Calif. – The Cal State San Marcos men's basketball team took down Cal State Monterey Bay, 84-81, on a made 3-pointer from senior Ethan Alvano with just .03 seconds left in regulation on Saturday evening in California Collegiate Athletic Association (CCAA) play.
Alvano, playing in all 40 minutes for the third straight game, scored a game-high 38 points on 12-of-20 shooting including 4-of-6 from behind the arc. As a team, CSUSM shot 52.7 percent from the field while the Otters went 29-of-71 (40.8 percent) for the game.
CSUSM has now won seven of their last eight games and improves to 13-3 overall and 8-2 in CCAA play. The Otters drop to 4-12, 3-9 CCAA following the loss.
The Cougars went into halftime trailing 48-42 and were down by as many 12 points with 18:49 to play in regulation.
CSUSM would then tie the game on a made 3-pointer from senior Josh Spiers to make it 64-64 with 10:51 remaining.
The Cougars would eventually capture their first lead of the second half at 73-71 following a layup by Alvano with 6:46 remaining.
After a made Otter free throw from Jahvon Johnson that tied the score at 81-81 with :26 seconds left to play, it seemed overtime was in order until the eventual game-winner was put in from Alvano to secure the win.
CSUSM outscored the Otters 44-20 on points in the paint.
The Otters were led by Mateo Jones with 19 points and eight rebounds in 28 minutes.
CSUSM records back-to-back come-from-behind victories to conclude their Northern California road trip before they welcome CCAA opponent Stanislaus State to The Sports Center on Saturday, Jan. 20. Tip-off is slated for 7:30 p.m.