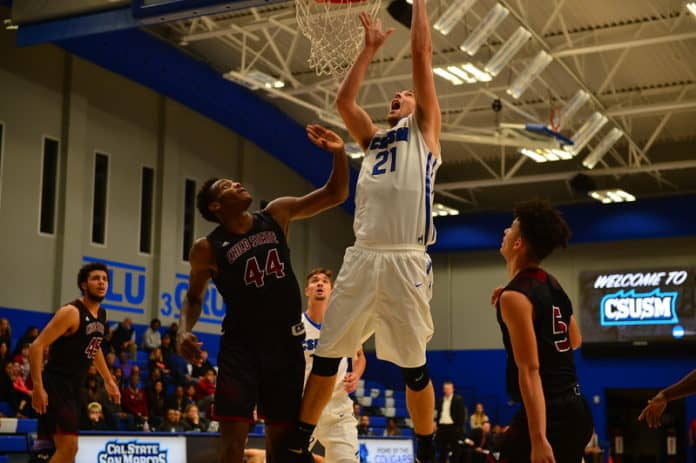 Cougars Roll Past Chico; 65-47
1/5/2018 | Men's Basketball | Box Score
SAN MARCOS, Calif. – The Cal State San Marcos men's basketball team took down Chico State, 65-47, Friday night in California Collegiate Athletic Association (CCAA) play inside The Sports Center.
The Cougars held the Wildcats to 30.6 percent (19-of-62) shooting from the field including just 5-of-29 from behind the arc.
CSUSM Men's Hoops January 6, 2018
CSUSM has now won five consecutive games and improves to 11-2 overall and 6-1 in CCAA play following the win while Chico State drops to 9-4, 6-3 conference.
Senior Ethan Alvano scored a game-high 17 points on 7-of-13 shooting in addition to recording six assists. Senior Joe Boyd finished with 16 points and nine rebounds in 34 minutes while classmate Josh Spiers and sophomore Jason Simmrin both tallied 10 points.
Senior Joe Boyd finished with 16 points and nine rebounds as CSUSM takes down Chico State 65-47 #BleedBlue pic.twitter.com/uyNkSe5LLY
– CSUSM Men's Hoops (@CSUSM_MBB) January 6, 2018
The Wildcats did not have a player score in double-digits. They were led offensively by Corey Silverstrom who scored a team-high eight points on 3-of-9 shooting from the field.
The Cougars are back in action today, Saturday, Jan. 6 as they host CCAA opponent Humboldt State in The Sports Center. Tip-off is slated for 7:30 p.m.