By Joe Green
In mid March of 2016 I was at a Red Lobster having dinner with my family (wife and 4 children), while running for office in the City of Vista. I saw Mayor Jim Wood (former Mayor of Oceanside) come into the restaurant and he ended up sitting down with the party of 15-20 sitting directly across from me. Come to find out, they were celebrating one of his constituents 100th birthday which is why he was there. When the time came to take the photo of the party Mayor Wood came to my table and said,
"Sorry to interrupt your dinner, but would you mind taking a picture of us?"
I jumped up, like the 6th man off the bench in a basketball game. I told a few jokes, made everyone smile, and took the picture. Mayor Wood thanked me. After his meal, proclamations, and several hand shakes, (roughly 45 minutes had passed) he discreetly walked out to his car and came back inside the restaurant. He then again approached my table. I'm sure I was grinning from ear to ear as my wife and kids were beside me. As he approached me I remember thinking.. "The Mayor Of Oceanside is coming to my table to talk to me. WOW WOW WOW!!" Standing in front of my table with a huge smile of his own, Mayor Wood presented me with…. the City Of Oceanside challenge coin. He explained that anytime he is around and anyone does something selfless, generous, or kind, that makes an impact on his city in his city he awards one of these coins. I had seen the military hand these coins out amongst themselves BUT had never seen an elected official present one.
I remember that day like it was yesterday. Mayor Wood, navy blue suit, the baby Blue dress shirt, and Red and Blue tie, the part in his hair, the smile on his face, BUT I also remember how it made me feel.
Although all I did was take a picture for the Mayor, it was a SUPER COOL experience that my whole family was a part of. A simple coin I was given. When I was elected, one of the 1st things I did was present the idea of a challenge coin for Vista. I knew I wanted our city seal on one side, and worked with our council to come up with the backside. Initially I was thinking a picture of city hall, similar to Oceanside's coin BUT in the end we printed our City Mission Statement on the back. "The City is dedicated to providing exceptional services, to improving Vista's quality of life, and to enhancing the uniqueness of the Vista community."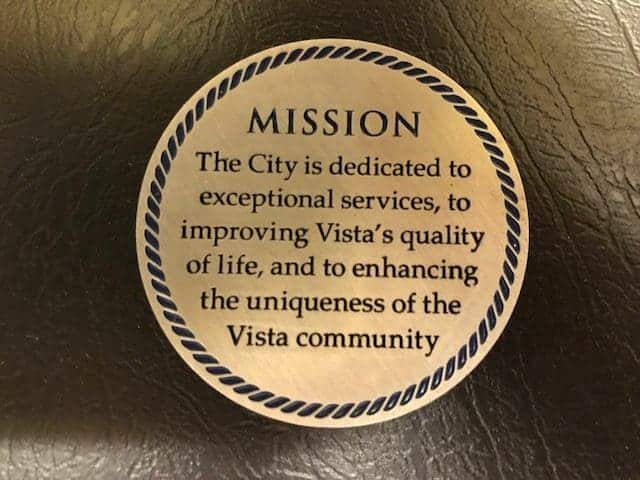 Every time I present one of our city coins I read our mission statement. It reminds me of the WHY behind these coins. I let the recipients know that I feel they also help enhance the uniqueness of our community along with our quality of life. Since receiving my allotment of challenge coins I've been going down the list of people that I think do just that. The 1st challenge coin I awarded was to my wife. She is the driving force behind me and no doubt enhances my quality of life along with being part of my wise council in all I do. The 1st official presentation of a coin was made to our Vista Chamber of Commerce President Bret Schanzenbach at a "Rising Star" breakfast. Since then I've presented coins to community volunteers, city employees, fire fighters, students, teachers, other city leaders, planning commissioners, pastors, military services members, law enforcement personnel, and many more. I even got to present Brigadier General Kilea, Commanding General for MCIWEST-MCB Camp Pendleton a challenge coin from our amazing city. I feel like in a small way these coins allow our citizens and community members to feel like a part of our city and mission. I also hope these coins inspire others, like they inspired me, to go do more good in our city and communities.
That small interaction with the Mayor Of Oceanside is one I'll always remember.
That interaction has inevitably effected hundreds already. I hope that the coins I've awarded and will be able to award of the next few years will mean as much to others as that coin meant to me. I now keep that coin on a shelf in my Real Estate office with other coins I've acquired. It serves as a constant reminder to continue making a difference, caring about others, and to always be generous and kind. So that's the Why for me behind our city "Challenge/Reward Coins".