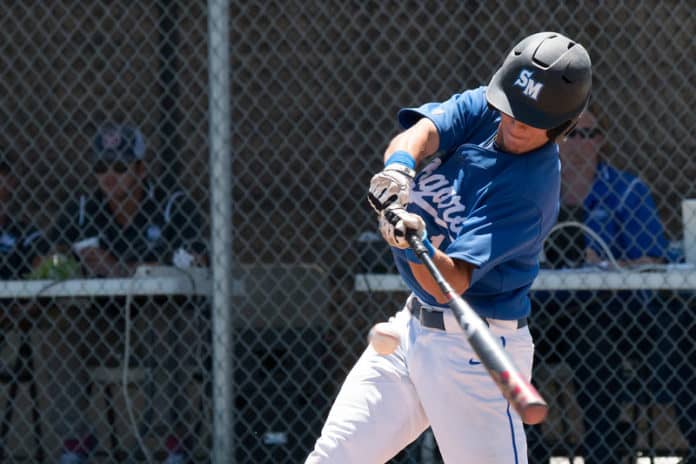 SAN MARCOS, Calif. – The Cal State San Marcos baseball team, under second year head coach Matt Guiliano, has released its schedule for the upcoming 2018 season. The Cougars will host 25 games at the CSUSM Baseball Field while competing in a 44-game California Collegiate Athletic Association (CCAA) schedule.
"After the year we had last season in the final year of the transition process and now being eligible for the postseason, we are excited to move forward with another changeling 2018 schedule,"
said Guiliano. "With 44 conference games, we were able to schedule six quality nonconference games to start the season against Concordia-Irvine and Concordia-Portland, both who are coming into their first year as full members of NCAA DII as well."
CSUSM's regular season kicks-off with a road trip to Irvine to take on long time rival Concordia-Irvine in a three-game series beginning on Friday, Feb. 2 at 2 p.m. The Cougars will then return home for the home opener on Saturday, Feb. 17 to take on Concordia-Portland in a doubleheader beginning at 11 a.m.
Guiliano is plenty aware of the league's ability and reputation.
"With 11 straight weeks of 4 game series in the CCAA, one of the best NCAA DII baseball conferences in the country, it's going to be a marathon of a season," said Guiliano. "We will have to find a way to be consistent enough to be in the hunt going into the last couple weeks of the season. Being so deep with competition and quality programs, anyone in this conference can win any given week."
CSUSM will open their conference schedule against 2017 NCAA West Region participant, Cal Poly Pomona on Friday, Feb. 23 at 2 p.m. and Cal State Dominguez Hills the following weekend (March 2-4). Both series will be played as a four-game split venue series with single games on each Friday and Saturday with a doubleheader scheduled for Sunday.
The Cougars will make their first trip up north as they travel to take on San Francisco State on Friday, March 9 at 2 p.m. at Maloney Field. This is the first of six consecutive weekend series against teams all represented from the CCAA North Region.
CSUSM will conclude its 2018 regular season schedule with a four-game series against crosstown rival and defending West Regional Champion, UC San Diego. The series begins with two 3 p.m. games at CSUSM on May 3-4 followed by a doubleheader at UCSD on Sunday, May 5 at noon.