Al Scholl Art Therapy for the Youth Presented by BrotherBird Foundation
May 5 @ 1:45 pm

-

5:30 pm

FREE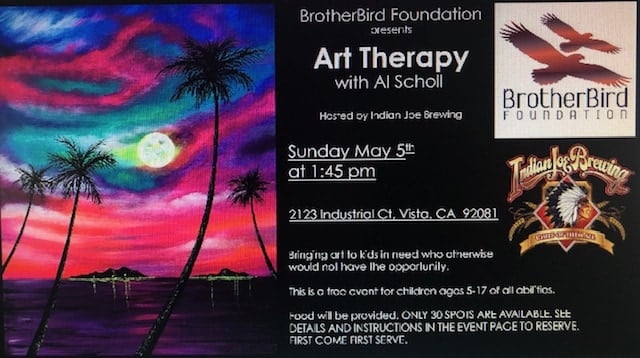 BIG THANK YOU TO THE BROTHERBIRD FOUNDATION FOR BRINGING US THIS AMAZING OPPORTUNITY and to INDIAN JOE BREWING FOR HOSTING THIS GREAT EVENT!
Bring art to kids in need who otherwise would not have the opportunity. This is a FREE event for children ages 5-17 of all abilities. Food will be provided.
Only 15 spots left are available
***PLEASE FOLLOW INSTRUCTIONS BELOW TO SUCCESSFULLY RESERVE A SPOT FOR YOUR CHILD / CHILDREN
***This event is geared to youth of families that are financially challenged and or have special needs children that otherwise would not be able to afford this opportunity. KIDS 5-17 of all abilities are welcome!
TO RESERVE YOU MUST:
1) PARENTS MUST RSVP TO EVENT (Children cannot sign themselves up)
2) PARENTS MUST CREATE A POST ON THE FACEBOOK ( https://www.facebook.com/events/434843410666481/ )EVENT PAGE LISTING THEIR CHILD'S NAME OR CHILDREN'S NAMES **(You can only sign up your own children and you can't just comment; you must post in the event!
3) PARENTS MUST BE PRESENT AND TEND TO THEIR CHILD DURING THE ENTIRE EVENT.
4) ONLY 15 SPOTS LEFT AVAILABLE!! FIRST COME FIRST SERVE! WHEN WE REACH 30 I WILL BE POSTING THE NAMES IN ORDER AND COMMENTING ON EACH OF YOUR POSTS "Confirmed"
Please be sure to arrive promptly as our class will begin on time! We will be upstairs painting and it is wheel chair accessible and an elevator is available.
EVERY CHILD WILL GO HOME WITH A 16 by 20 UV / blacklight reactive acrylic painting, a full belly and a smile! ALL SUPPLIES AND FOOD ARE PROVIDED!