Broadway Vista Presents Lost in Yonkers By Neil Simon
March 14 @ 7:30 pm

-

March 31 @ 2:00 pm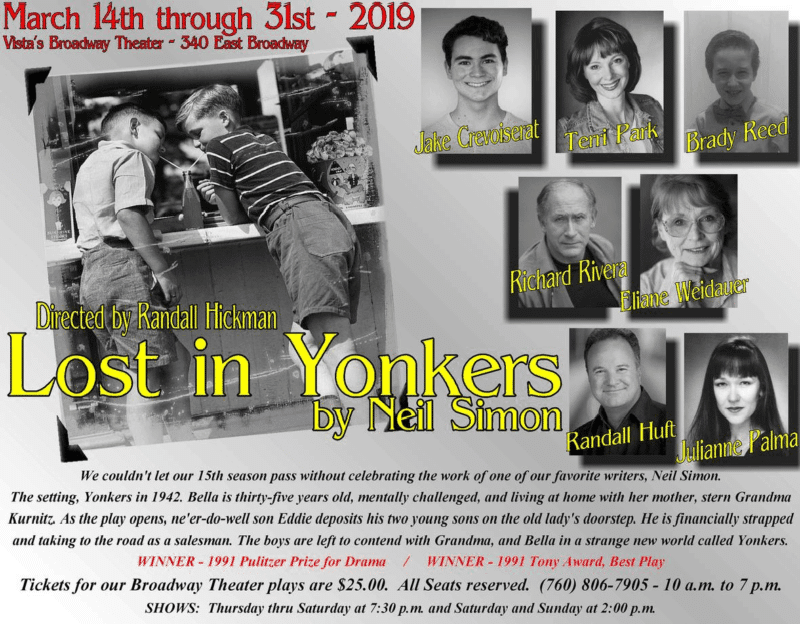 March 14th through March 31st- 2019
We couldn't let our 15th season pass without celebrating the work of one of our favorite writers, Neil Simon.
The setting, Yonkers in 1942. Bella is thirty-five years old, mentally challenged, and living at home with her mother, stern Grandma Kurnitz. As the play opens, ne'er-do-well son Eddie deposits his two young sons on the old lady's doorstep. He is financially strapped and taking to the road as a salesman. The boys are left to contend with Grandma, and Bella in a strange new world called Yonkers.
WINNER – 1991 Pulitzer Prize for Drama
WINNER – 1991 Tony Award, Best Play
Tickets for our Broadway Theater plays are $25.00. Thursday thru Saturday at 7:30 p.m. and Saturday and Sunday at 2:00 p.m. TICKETS: (760) 806-7905. Order ON LINE by clicking HERE