First Friday Art Walk Oceanside will be returning to its classic Artist Alley venue in downtown Oceanside on Friday, April 5th from 5:00pm – 9:00pm.
"As the city of Oceanside continues to grow, First Friday Art Walk represents the blossoming local art scene and coastal vibe unique to West Coast Culture," says Pete Harwood, vice president of the Oceanside Friends of the Arts. More than 40 local artists, food vendors-Mariposa Ice Cream, Orfila Winery and Doughside Donuts; along with musicians Melody Maker, Hailey Wild and Aki Burkes will be on hand
Also in keeping with the core fund-raising mission of Art Walk, Oceanside Friends of the Arts will be honoring its 2019 Grant recipients. Sharon Strong from El Camino High School's Video Production department has received a check for $500 and Leah Ritt from Oceanside High School's Guitar and Choir class has also received a $500 check. Both teachers and some students will be present in Artist Alley on April 5 to celebrate Arts Education in our local schools. Oceanside Friends of the Arts is happy to encourage local students to explore art as a passion and potential career choice.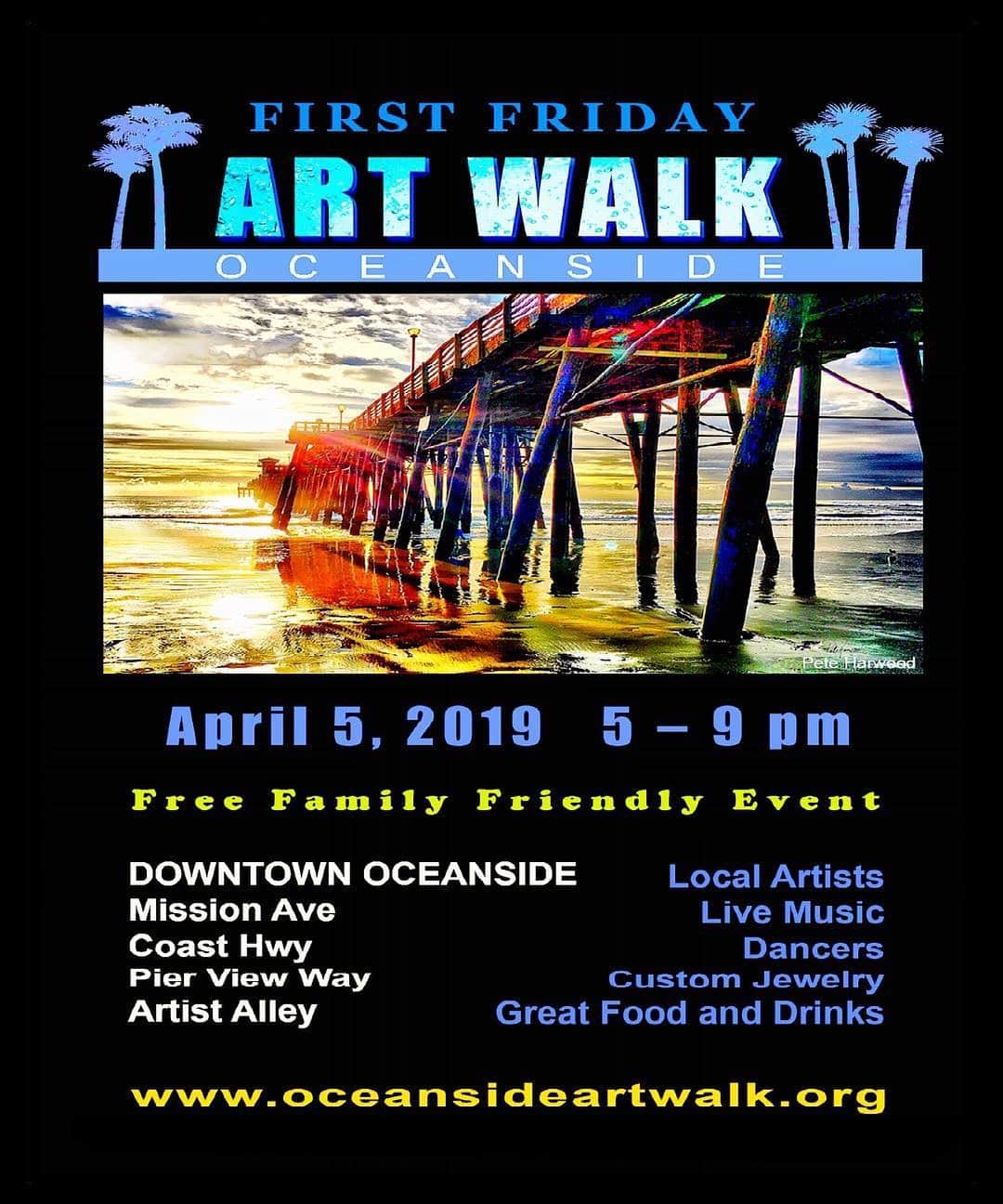 In conjunction with Art Walk, the Oceanside Museum of Art(OMA) will be offering free admissions to explore OMA exhibitions. In addition to the exhibitions, visitors can enjoy a contemporary theatrical dance company, followed by "Americeltic" live music. The galleries will be open and LITVAKdance will liven up the terrace and lobby with excerpts of three different dances from 5:00-8:00pm. Gregory Page's genre-bending sound will fill the museum from 8:00-10:00pm. There will be beer for sale and a food truck on hand for delicious bites.
The Oceanside Public Library at 330 North Coast Highway will also be hosting an adorable exhibit of adopted pet photos sponsored by the San Diego Humane Society in conjunction with Art Walk from 6:00-8:00pm.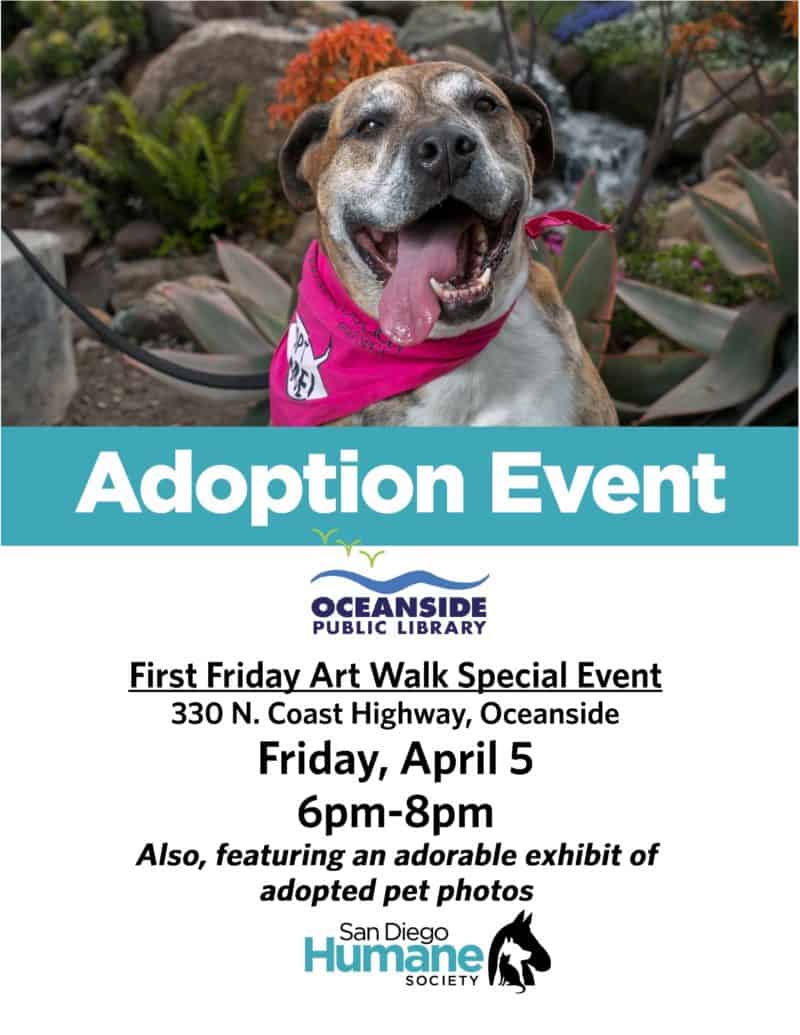 About The Oceanside Friends of the Arts
The Oceanside Friends of the Arts, a Non-Profit 501c3 Foundation, was established in 2016 with the goal of promoting Oceanside and surrounding communities as an important arts, culture, entertainment and tourism hub/destination that catalyzes economic prosperity and a high quality of life for Oceanside's future. The Oceanside Cultural District was recently selected as one of California's 14, premier state-designated cultural districts by the California Arts Council. The California Cultural Districts program aims to leverage the state's artistic and cultural assets. Fund-raising proceeds will go to support First Friday Art Walk and scholarships for high school graduates to further their art education.
About Oceanside Museum of Art
Oceanside Museum of Art located at 704 Pier View Way, is a premier regional art museum and a leader of arts and culture in San Diego. In addition to several highly praised contemporary art exhibitions per year, museum programming includes classes, lectures, docent tours, parties, concerts, films, culinary events, and chartered travel to other cultural art venues and destinations.