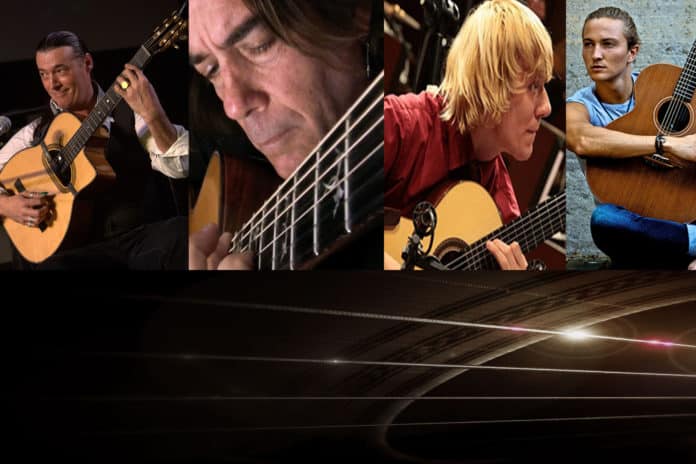 FOUR INCREDIBLE ACOUSTIC GUITARISTS IN ONE INCREDIBLE EVENING IT'S INTERNATIONAL GUITAR NIGHT!
Escondido, Ca. – February 8, 2018 — The California Center for the Arts, Escondido is excited to present International Guitar Night on Sunday, February 18th.
Since beginning in 1995, International Guitar Night has been bringing the finest acoustic guitar players from around the world together for a night of awe-inspiring music that you won't soon forget.
Created by Brian Gore as a way to bring together masters of different styles for collaboration and fun, International Guitar Night has grown from its original home in a converted Laundromat to multiple sold out worldwide tours.
2018's tour is no different, featuring an all-star lineup of styles and genres. Hosting the evening is Germany's Gypsy Jazz Legend Lulo Reinhardt. The grandnephew of iconic jazz guitarist Django Reinhardt, Lulo has continued his ancestor's sound and legacy with a talent for acoustic guitar that is celebrated from coast to coast.
Joining Reinhardt is Canadian contemporary sensation and YouTube star, Calum Graham. At just 24, Graham, has enjoyed a career most double his age would envy and has developed a two-hand playing style all his own. International Guitar Night also welcomes Poland's innovative composer/guitarist, Marek Pasieczny. Rounding out the tour is the only guitarist to ever win First Prize at the world's top Classical and Fingerstyle competitions, American Michael Chapdelaine.
About California Center for the Arts, Escondido
With a mission of bringing people together to discover, create and celebrate the arts, California Center for the Arts, Escondido is the cultural center of North San Diego County.
The Center's unique campus includes a 1,523-seat concert hall, a 404-seat theater, a contemporary art museum, art and dance studios, and a full-service conference center with meeting and banquet facilities. The Center also runs an extensive education program and produces free community events. San Diego Magazine named the Center the "Best Limited Engagement" in North County. The Center was named in the Top Five for U-T San Diego's Readers Poll for "Best Live Music Venue" and the Top Five for "Best Place to Get Married." In 2016, the Center was named "Organization of the Year" by the Escondido Chamber of Commerce.
The Center is located at 340 N. Escondido Blvd. in Escondido. The Ticket Office can be reached at (800) 988-4253. Tickets can also be purchased online. To learn more, including performance dates, times and ticket information, visit artcenter.org.