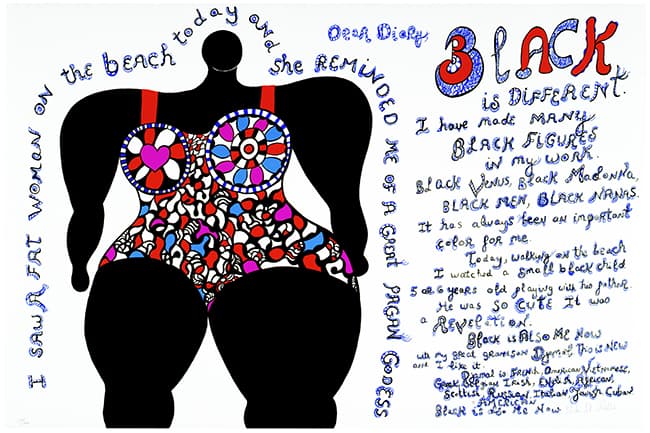 In February's FREE 2nd Saturday Art Lesson, learn how to draw and write in a similar style to Niki de Saint Phalle's unique handwriting. Niki used to journal in artistic ways and created pieces of artwork based on what she wrote. We will use pieces from her Californian Diary series for inspiration in creating an original signature in her likeness. You can also view these pieces in our current exhibition, Niki de Saint Phalle: Mythical California.
Please note: due to the popularity of our 2nd Saturday art lessons, we now have two times available to participate. The first lesson will run in our Art Studio from 10am-11am, and the second lesson will run from 11am-12pm.
While this event is free, we strongly recommend you RSVP as we have limited seating. RSVP here: http://artcenter.org/event/letterswithstyle/
For all art activities, we provide the materials — attendees just bring their creativity! All ages are welcome.
About California Center for the Arts, Escondido
With a mission of bringing people together to discover, create and celebrate both the visual and performing arts, California Center for the Arts, Escondido is the cultural center of North San Diego County.
The Center's unique campus includes a 1,523-seat concert hall, a 404-seat theater, a contemporary art museum, art and dance studios, and a full-service conference center with meeting and banquet facilities. The Center also runs an extensive education program and produces free community events. San Diego Magazine named the Center the "Best Limited Engagement" in North County. The Center was named in the Top Five for U-T San Diego's Readers Poll for "Best Live Music Venue" and the Top Five for "Best Place to Get Married." In 2016, the Center was named "Organization of the Year" by the Escondido Chamber of Commerce.
The Center is located at 340 N. Escondido Blvd. in Escondido. The Ticket Office can be reached at (800) 988-4253. Tickets can also be purchased online. To learn more, including performance dates, times and ticket information, visit artcenter.org.