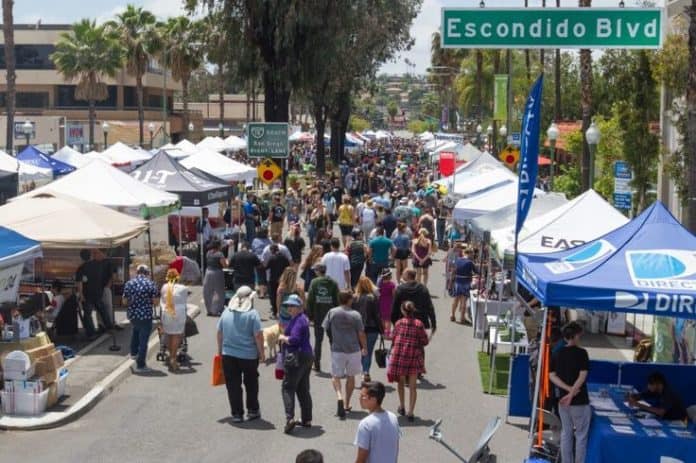 Sunday, May 20, 2018
9:00 AM – 5:00 PM
The Grand Ave Festival, Escondido, takes place in our historic downtown on Grand Ave from Center City to Juniper.
Shop from hundreds of vendors for unique hand-crafted gifts and imports. Enjoy international cuisine and local entertainment.
GAF entertainment is from local dance, performing arts and music groups.
Performance times vary from 20-90 minutes.
MAPLE Street Plaza
9:30 Ignite Dance
10 Rising Star Scholarship Awards
10:30 Kalu Hailu
11 Patio Playhouse
11:30 Off Broadway
12 East West MMA
12:30 Folklorica
1:00 Georgia's School of Dance
1:30 Sabor Andaluz
2:00 Escondido HS Show Choir
2:30 Escondido HS Dance
3:00 The Sunny Side Strings
3:30-5 Fashion Jackson
Chase Bank Lawn at Orange
10:30 Guest Room with Trevor Plume
12 Patio Playhouse
12:30 Chase the Entertainer
1 San Pasqual HS 8 Ball Band with Cali Smith
2 Morning Yells
3:00 Alex Finazzo
3:30-5 Los Pacheco Brothers
Escondido Chamber of Commerce at claudine@escondidochamber.org or (760) 745-2125