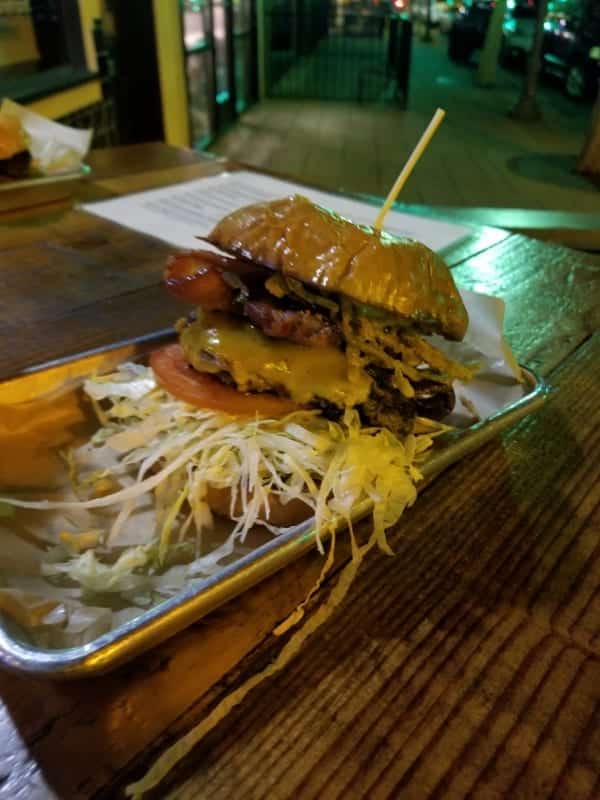 Locally sourced Burgers and Beer in Escondido
My husband and I recently had the pleasure of having dinner at Burger Bench at 237 East Grand Avenue Escondido. This happening burger joint was full of families, lots of kids and had a great vibe.
Burger Bench is not your usual burger place.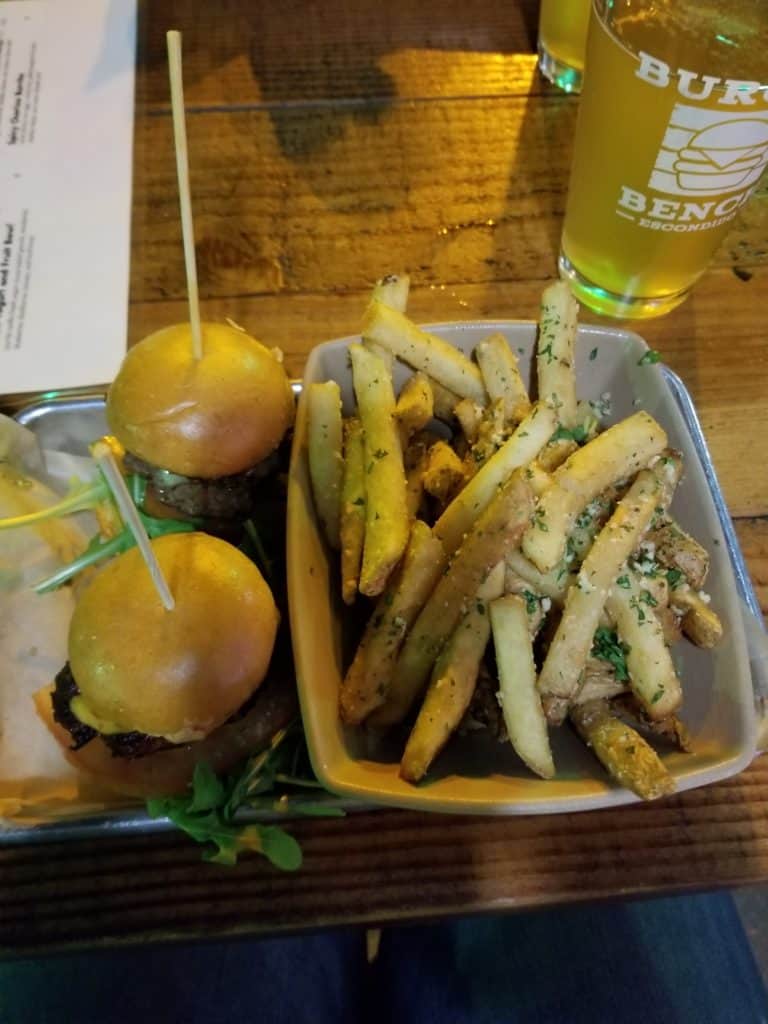 The owners have created a locally sourced offering of burgers, sandwiches, freshly made soups, tots and beer.
If you go here, you must try a burger. I had 2 sliders, the Chorizo Diablo slider and the Fig jam slider. The chorizo is full of flavor, spicier than the traditional chorizo, but not greasy like chorizo tends to be. The brioche buns are fresh yet firm, and make a great contrast to the juicy meat of the chorizo. The Fig jam slider was great too. I'm usually not a huge fan of figs…but the sweetness of the fig jam contrasted wonderfully with the cheese on this burger.
My husband had the Smokehouse burger, and I had a bite. If you are going to put bacon on a burger, it needs to crisp and the best quality possible. The bacon on this burger did not disappoint. The bacon was smoked, but also had a sweet maple flavor. Really good.
Great care has been taken to make these burgers as creative, fresh and scrumptious as possible. We shared an order of the natural cut fries. The crispiness is something that is hard to attain. Often, if fries are natural cut, they are not crisp.
These were, and stayed that way as we were eating them…something else that is often not the case. I can't go without mentioning the tater tots. I have not had them, but know people that have and you should try these. Next time, I will definitely try this childhood favorite!
The beer list also shows the care and attention they have paid to offering the best San Diego has to offer. They have a wide selection, ciders, meads and every kind of beer you might want. Most of these offerings I have not seen at other restaurants, so this is really unique. The beer is offered on tap, which for me, is always a must.
I will go as far as to not order beer, if it is only offered in a bottle or can…so I have been accused of being a bit of a beer snob. For me, trying new beers is one of my favorite things in life, so I really appreciate it when a restaurant goes to the trouble of having an extensive selection of beer on tap.
I tried the Little Miss Easy killer…not a fan of the name, but the beer was very good. All the beer is from the greater San Diego area (no secret we have the best brews in the world) and the owners of Burger Bench have done a great job of creating a selection that will please just about every beer connoisseur. Unfortunately I didn't have dessert, as the burgers, fries and beer were more than enough; but there is always next time. Mama's Ice Cream Pie looks to die for! The breakfast offerings look amazing as well.
If you are interested in having great food that is locally sourced and made with care…have a seat at the Burger Bench in Escondido.
If that isn't enough for you, they also support MANY local charities in the process. What could be better, having some amazing food and helping your local farmers and charities at the same time.
Burgerbench.com
Janene Forman
Food and Arts writer for North County Daily Star