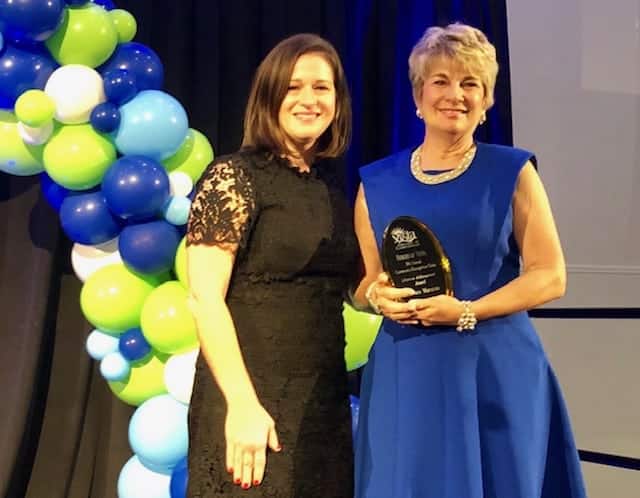 By Roel Godinez – On Friday, April 5th, The Vista Chamber of Commerce, the Vista Education Foundation, and their benevolent sponsors presented the 8th Annual Heroes of Vista Gala Dinner event. Hosted in the Cal State University San Marcos Student Union Building, this evening event took place from 5:00 to 8:30. Many of the guests, most of whom were well dressed in suits and cocktail dresses, are members of the Vista Unified School District, the Education Foundation, and/or local organizations or businesses that positively impact the Vista community. What they found, besides the delectable dinner and the heartful atmosphere, was that this event had a dual purpose: to honor The City of Vista's greatest heroes and to act as a fundraiser for Vista Unified schools.
"All of the money goes to the Vista Education Foundation to support students in the school district," said Vista Unified Career Technical Education Coordinator Kelly McKinney, who had a hand in the organization of this event. "It's always a fun night and it's great that it's Vista's community coming together to support our students in our district."
Indeed, the guests contributed funds throughout the evening, beginning with the $125 per individual entrance fee. This entrance fee was the base contribution, as gold and platinum sponsorship placements were also available for much steeper prices.
For the first hour and a half, guests were encouraged to partake in the silent auction. This auction consisted of over 60 diverse items that ranged from locally crafted art pieces to elegant gift baskets, amusing day trips and a free oil change.
The live auction that followed enlivened the mood as eight items were put up for bid. These, which were offered for very high prices, consisted of luxurious getaways, once in a lifetime experiences, and the opportunity to be first in line for the exiting valet service. The auctioneer, founder of California Coast Auctions, Zack Krone, was dynamic and kept the audience in high spirits.
"We get requests for money from schools and from teachers, and we just pull from this money and put it directly into the classroom," said CEO of the Vista Education Foundation Brad Peterson. "We are not actually affiliated with the school district, we just answer certain requests from teachers that want money for a project, then we vet the project and cut a check. In preparation for this event we have planning meetings and we go out and collect all the silent auction items and then we try to get people to come and attend and invest in the Education Foundation. Hopefully the contributions will keep kids in schools, invest in technology, in arts and music, and scholarships, and internships and apprenticeships. The goal is to keep kids in schools and keep them engaged. Because if they're not, then who knows economically what happens to them. If you don't have a high school degree or you're not going to college or you just drop out, then you lose your potential to have a good life."
Though the purpose of the evening was to raise funds, the night maintained a carefree and light attitude. The mingling guests were entertained by the well structured schedule of events. Upon checking in, each couple or group was ushered in for a quick photo shoot in front of a whimsically illustrated Heroes of Vista backdrop. Photos were taken by Vista High School's student photography team, who were shooting all aspects of the event. Rancho Buena Vista also played a part in the entertainment with its skilled student saxophone group, who added to the ambiance while food and drink were being served. Dinner was served buffet style; however, unlike typical buffets, entrees were cooked right on the buffet line. The array of choices, from chicken alfredo salad to medium rare tri-tip steak, was staggering and left many guests with many options and full stomachs.
According to Marie Hoveln, Treasurer for the Vista Chamber of Commerce for over 7 years, "The first year it was held at the city hall in our courtyard and it was quite a bit different. We ate in the main room of what is now the Morris Vance Community Center. It was definitely a different event, but it has evolved to what it is today. It just gets better all the time and you know there is just great community support. Everything here is donated from businesses in Vista and artists and its all to help the students in Vista Unified."
Between the entertainment and auction, honor was a major theme of the night. To begin with, the 2019-2020 Vista Chamber of Commerce Board was sworn in. This ceremony recognized its members, all of whom stood and swore to enhance and support the chamber throughout their terms. Afterwards, five of VUSD's most distinguished faculty members were awarded with Vista Education Awards.

One of the award winners was the Rancho Buena Vista T.V. and film teacher, Chris Tompkins. "I am incredibly honored to have received this award," he said. "I owe it all to my class, they were the ones who put together all of tonight's videos. Again, I'm incredibly honored, yet I am also so humbled. The Veteran of the year, he's a one-hundred-year-old Marine vet. He came in and told his stories and that's when I said, "you know what, you are the real hero." I'm just some goofy media teacher. To be in the same category as this guy was just so incredibly humbling. It's super flattering and I owe everything to my students."
The veteran in question is SgtMajor Jay Parker, a decorated veteran of WWII and of the Korean War. He, among several other individuals and groups, was awarded with plaques and certificates of commemoration. As each winner walked on stage to accept their award, a video was played on the two overhanging screens. These videos gave the audience insight as to what impacts these local heroes had on Vista. After this, they were directed to the front of a backdrop to take photos with the incoming Chair for the Vista Chamber of Commerce, Jamie Johnson.
The 2019 Lifetime Achievement Award was presented to Barbara Mannino. Barbara is well known in the health care community for her work with the Vista Community Clinic, where she was CEO for 30 years, taking the organization from a $500,000 annual budget to a $45 million annual budget. Other awardees were given to the Small Business, Large Business, Businessperson, Non-Profit, Firefighter and Deputy of the Year.
Once the last award was presented, a goodnight was wished among the crowd. Though it had all taken place in less than four hours, this night's gathering will affect the schools, the businesses, and the communities of Vista for months to come.