The City of Vista's re-elected mayor, Judy Ritter, took the oath of office December 11, 2018 during the Vista City Council meeting.
Mayor Ritter has been serving on the City Council since 1998 and was elected for the first time as mayor of Vista in 2010. She was re-elected in 2014, and again in 2018.
"I look forward to working with re-elected Council Member Franklin and newly elected Council Member Corinna Contreras, and the rest of our Council," said Mayor Ritter, "as we work towards fulfilling our City Council goals and in addressing current and future policies and issues."
CLICK ON PHOTO TO ENLARGE
In addition to the Mayor, Council Members John B. Franklin and Corinna Contreras were sworn in as the City's first district elected representatives by districts 4 and 1, respectively, to mark the start of their four-year terms. The Vista City Council adopted district-based voting in June, 2017. The City Council also appointed John Franklin as Deputy Mayor during the meeting. The deputy mayor is appointed for a one year term.
Outgoing Deputy Mayor John J. Aguilera was recognized for his eight years of public service on the Vista City Council during a reception held in his honor prior to the City Council meeting. Mr. Aguilera also served on the Vista Planning Commission from 2004-2010 and the Investment Advisory Committee from 2002-2010.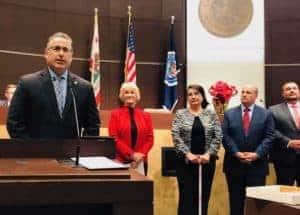 "I believe Deputy Mayor Aguilera can look back with great satisfaction in all that the City of Vista has achieved together over the past eight years," said Mayor Ritter. "It has been my pleasure to work side by side with John. During his leadership and service in our community, there was the constant that defined his work: his clear vision for Vista's future and willingness to work effectively with others. He has been instrumental in working to move many projects forward and his service to the City has benefitted all of us, and will continue to do so well into the future."
More information is available about the Vista City Council here.