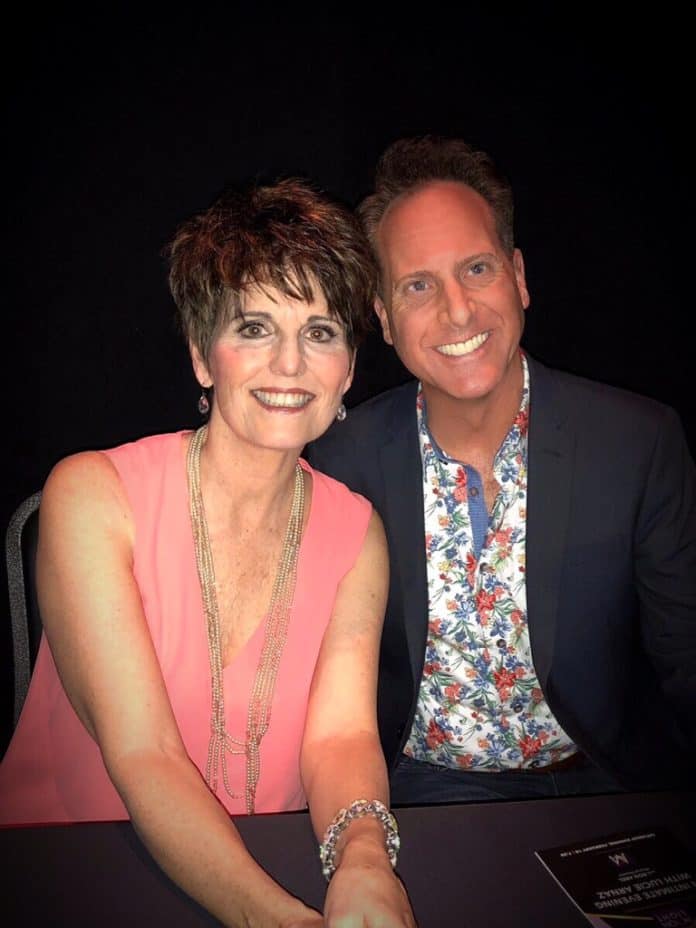 By Kent Leithold
A rare, chilly, cloud covered day in north county San Diego turned into a hot steamy evening – sparkling with love, memories and great music – the moment entertainer Lucie Arnaz took the stage. Tall, radiant in a short coral dress that showed off her long dancers legs, she made her way through the sold-out crowd of Club M to the stage where she instantly won over the crowd after launching into the opening "Recipe for Love/Tender Trap" with her musical director, Ron Abel. Following the song, she apologized and proceeded to take off her heals after telling of leaving her home in Palm Springs, packing her cloths for the show into the car without checking them only to find after arriving that she had brought two right high healed shoes! – everyone howled with laughter as she placed the shoes on the piano where they stayed for the remainder of the evening.
Barefoot, she launched into a beautiful 75 minute set of songs including stories from relationships, collaborations with composer Marvin Hamlish, meeting & falling in love with her husband, her children and ending with a touching story & song about the very last song sung on the I Love Lucy show, "That's All". This show titled, "An Intimate Evening With Lucie Arnaz" was Lucie at her best.
A great, honest, fun and hardworking entertainer that unbelievably has been in show business for over 50 years, she makes it all look simple.
Starting out on her mother's (the great Lucille Ball) show, The Lucy Show. Other television series followed including her own show. Movies (both big screen and the small screen) have been sprinkled into her career such as starring opposite Neil Diamond and Sir Laurence Olivier in The Jazz Singer. She has thrilled audiences with her stage work including the 1979 Broadway hit by Neil Simon/Marvin Hamlish/Carole Bayer Sager, They're Playing Our Song, the national company of My One and Only opposite Tommy Tune and the Cameron Macintosh musical, The Witches of Eastwick in London for a year and a half in 2000. Lucie tours the United States and Europe with her nightclub act. Talent and experience beyond what most can imagine.
The Club M series at the Moonlight. Don't miss it. The venue is a gem of a supper club on the stage of the fabulous Moonlight Amphitheater in Vista. Our community needs this. The North County is thirsty to see great entertainers like Lucie Arnaz. I always love hearing how impressed performers are after seeing this incredible venue in our own backyard. Anyone need a pair of shoes?!