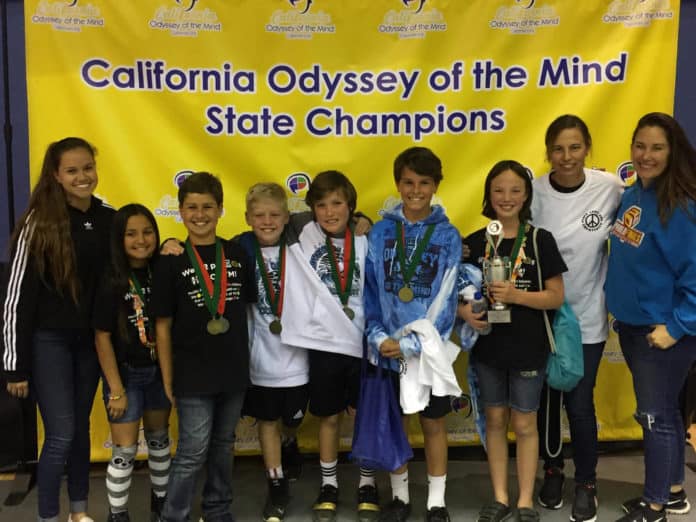 The fifth grade Odyssey of the Mind team at Pacific Rim Elementary School has qualified for the World Finals, to be held at Iowa State University at the end of May.
The team won the regional San Diego tournament, and went on to compete at the California state tournament held at the University of California, Riverside, in March. At state, they qualified for the World Finals; they will compete against teams from over 30 states and 36 other countries, including China, Japan, Poland, Switzerland, and Singapore.
Odyssey of the Mind is a critical and creative thinking competition comprised of a team of 5-7 kids who spend months preparing to solve a problem in 8 minutes.
There also is a short-term problem where kids are given a problem to solve (they have to build a structure as a team or solve a verbal idea that is presented) and have to think on the spot. They are scored based on their ingenuity, creativity and teamwork. Thousand of teams compete, but only the best of the best go on to the World Finals!
Pacific Rim takes pride in being a leader in Odyssey of the Mind competitions year after year. Our students are proud to represent their school, the City of Carlsbad, the state of California and the USA.
For more information about Odyssey of the Mind, visit https://www.odysseyofthemind.com/.