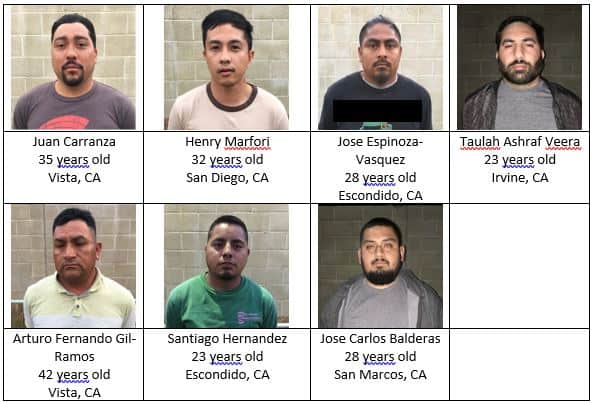 The Escondido Police Department partnered with the San Diego Human Trafficking Task Force, and Detectives from San Diego Sheriff Department, National City Police Department, San Diego County Probation, San Diego Police Department, San Diego County District Attorney's Office, California Department of Justice, and the Naval Criminal Investigative Service conducted an operation targeting individuals seeking prostitution via the internet.
As a result of this enforcement effort, 7 men made arrangements over the internet to trade money for sex acts. These men went to an agreed location where they were contacted and arrested by law enforcement officers for the violation of California Penal Code 647(b)(1) – soliciting or agreeing to participate in any act of prostitution. Photographs and biographical information for the arrestees appear above.
Prostitution is not a victimless crime. This criminal activity has evolved and often includes young women who are coerced to participate in prostitution often arranged online. Many of these women are forced to use highly addictive drugs, suffer physical assaults, and are forced to perform sexual acts against their will as initiation into this modern form of slave labor. Often, these activities occur at the direction of criminal gangs and/or organized crime.
If you are a victim of human trafficking or suspect someone who is, please get help by calling the National Human Trafficking Resource Center toll free, 24/7 Hotline at (888) 373-7888 or text HELP to 233733 (BEFREE). If you or someone else is in immediate danger, CALL 9-1-1.
Please follow the Escondido Police Department (@EscondidoPolice) on Instagram, Facebook, and Twitter.
To report any suspicious activities in your neighborhood, you may contact the Police Department directly, or you may make an unidentified call on our "Anonymous Tip Line" at (760) 743-TIPS (8477) or via our website at police.escondido.org.
Human Trafficking Awareness Walk in Vista Rain Could Not Stop Them