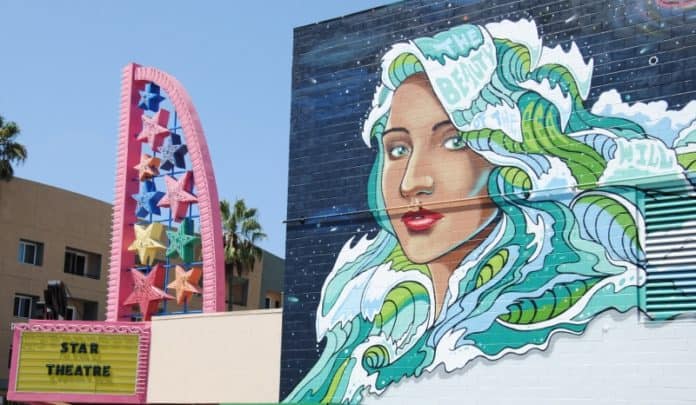 Date: Monday, February 26 – Monday, April 2
Oceanside, Calif. — February 21, 2018: You probably know that five bucks will buy you an incredible cup of craft coffee or tea in Oceanside. But did you know that by sharing that cup, you can make an incredible, lasting and visible local impact in your community?
MainStreet Oceanside is partnering with downtown coffee and tea merchants for the Share Your Cup fundraising campaign. MainStreet is encouraging the community to support the Oceanside Mural Initiative (OMI) with a purchase at a different Downtown Oceanside coffee and tea shop each Monday from Feb. 26 to April 2. A portion of all sales each Monday during the campaign will benefit the OMI:
•Feb. 26: Pier View Coffee Co., 300 Pier View Way
•March 5: Panels Comic Book Coffee Bar, 713 Mission Ave., Suite A
•March 12: Brown Cup Cafe & Lounge, 401 N. Coast Highway, Suite E
•March 19: Jitters Coffee Pub, 510 N. Coast Highway, Suite D
•March 26: The Loose Leaf Tea Bar, 408 Mission Ave.
•April 2: Banana Dang, 115 S. Coast Highway
MainStreet Oceanside will match total donations up to $10,000. So far, the community has responded generously by giving over $4,000 through GoFundMe.com and our office. MainStreet now asks for the community's help in sharing the OMI with friends and neighbors who aren't familiar with the initiative.
Matt Bayer, owner of Pier View Coffee Co., is happy to give back to improve our downtown aesthetics.
"This is a great win-win partnership with MainStreet Oceanside as we're asking our locals to continue to support our small businesses and share their cup of coffee to improve our community," Bayer said.
First OMI muralist Skye Walker said, "Murals bring a community together and create beauty. They also create stories and a sense of place for local families shopping or dining at their favorite downtown business. By visiting your local coffee and tea merchants during the Share Your Cup campaign, you can help create and tell your community's story."
About Oceanside Mural Initiative:
The Oceanside Mural Initiative (OMI) seeks to install 10 curated public art murals over the course of three years in Downtown Oceanside. OMI is a community-driven initiative that will integrate key partners in the downtown Oceanside area. Through this initiative, Oceanside will become a destination for public art, create a model by which Oceanside and other communities can fulfill community-driven arts initiatives, act as a medium for education and community outreach, and help to define Oceanside as a community whose identity is built upon and driven by the arts.
Website: https://www.mainstreetoceanside.com/omi

MainStreet Oceanside is a 501(c)(3) not-for-profit organization, and your donation is tax deductible. For more information about the OMI or to inquire about stakeholder and corporate sponsorships, please contact Gumaro Escarcega at 760-754-4512 or gumaro@mainstreetoceanside.com.