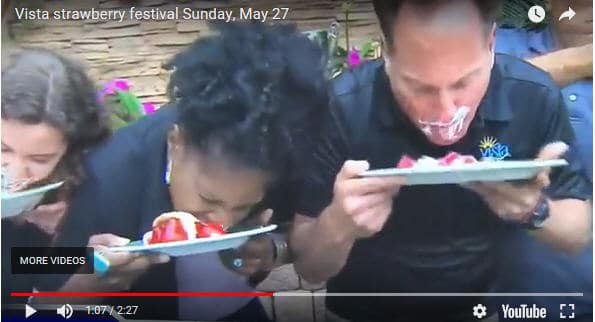 Vista, California, was once the unofficial Strawberry Capital of the World. In the 1960's and 1970's, during peak season, strawberries were shipped from Vista all over the United States, as well as internationally.
There were daily shipments to Europe, Hong Kong and other parts of Asia. One place in the Netherlands thought the strawberries they received from Vista were actually a different fruit because they were so much larger than they were used to. And, with all the crates coming in with the word "Vista" on the side, they started referring to the strawberries as "vistas".
Vista still has some fields where strawberries are grown, but not to the degree we used to have. The Vista Strawberry Festival was created in 2010 to celebrate our history with the beautiful berry!
We hope you have a berry good time while you are here!
Parking and Transit Information
You may park in any of the neighboring lots that are close to the Strawberry Festival at no charge. However, with over 100,000 attendees the past few years, parking can be challenging.
To help with parking issues, we offer a FREE shuttle to all attendees running every 15 minutes from two different locations:
The Vista County Courthouse
325 S. Melrose Drive, Vista
8:30am to 6:30pm
Vista High School
1 Panther Way, Vista
10:00am to 6:30pm
You may also park at any Sprinter Parking Lot and ride the Sprinter or Breeze Buses to the Vista Transit Center.
Contests Schedule
Entertainment Schedules on Six different Stages
Vista's Got Talent
After 7 years, Strawberry Idol is now becoming Vista's Got Talent, presented by Moonlight Cultural Foundation. We will have four different categories of Talent that will be eligible to participate (see categories below). There is a $10.00 registration fee to submit your talent to be considered for this contest. You must submit your registration fee along with a link to a 2 to 5 minute video of you performing your talent (the quality of your video is not being judged, only the quality of your talent). Use the Register Button below. We will select three finalists from each category to perform in the semifinals at the Vista Strawberry Festival. If participant is under 18, parent authorization will be required.
The semifinals and finals will be held at the Strawberry Festival on Sunday May 27, 2018 at 11:00 a.m. in the Avo Theater. The top 3 performers (overall) will perform at 2:30 p.m. and they will win cash prizes: $500 for 1st Place, $200 for 2nd Place and $100 for 3rd!
The four different categories are:
•Theatrical – Magic, novelty, acrobatic, and optical illusions.
•Comedic – Family appropriate stand up and sketches.
•Musical – Instrumental, vocal, solo and groups.
•Dance – Ballroom, tap, ballet, modern, theatrical, and jazz.
Craft Brew Beer Garden
Come enjoy some great local craft beer. We expect beer from 9 local microbrews to be on tap for the entire day. Plus, we will have some great music and fun contests in the Beer Garden.
Sponsored by Empowered Firearms:
9:00 a.m. – Aon Events Party Music
10:30 a.m. – Beer Stein Holding Contest
10:45 a.m. – Nuvo Fitness Demo
11:00 a.m. – Aon Events Party Music
11:30 a.m. – Beer Stein Holding Contest
11:45 a.m. – Belly Dancing
12:00 p.m. – Clay Colton Band
1:00 p.m. – Beer Stein Holding Contest & Frozen T-shirt Contest
1:30 p.m. – Clay Colton Band
3:00 p.m. – Beer Stein Holding Contest & Home Brew Winner Announced
3:30 p.m. – Custard Pie