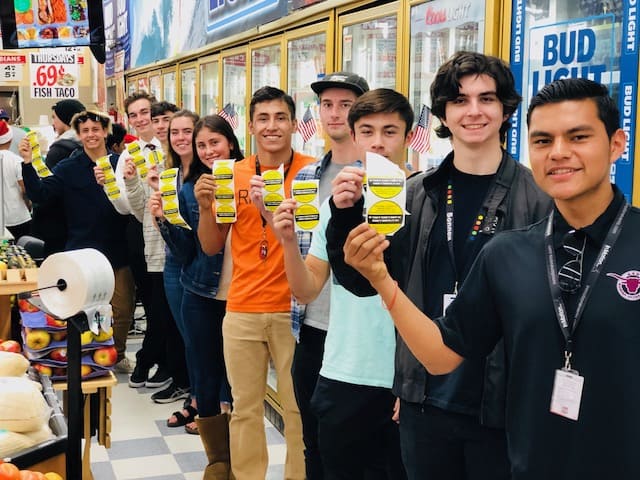 Santa's next stop was in Vista! His elves, the North Coastal Prevention Youth Coalition (NCPYC) members (high school students dressed in holiday gear) visited eighteen stores in Vista and Oceanside on Monday, December 18th in an attempt to curb underage drinking. Teams of youth gathered at Primo Market, 1535 W. Vista Way, Vista, CA 92083, to kick off the campaign.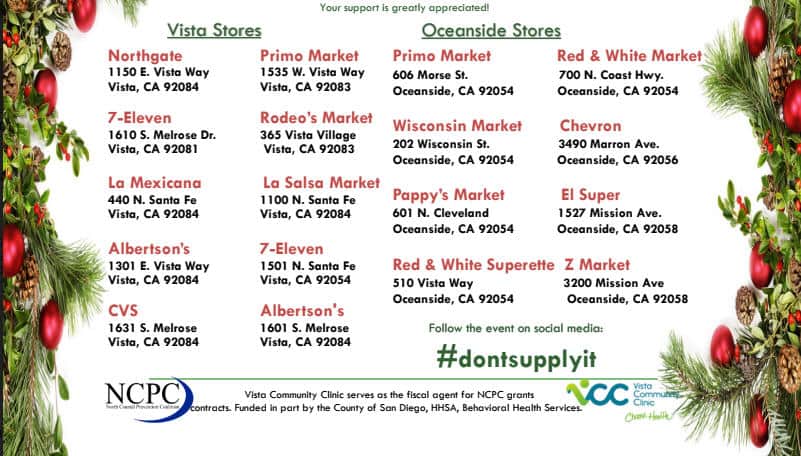 The North Coastal Prevention Youth Coalition (NCPYC) in partnership with high school/college youth rallied to conduct a "Sticker Shock" campaign at over a dozen alcohol retail stores/markets in Oceanside and Vista in an effort to prevent underage drinking at home parties. The holidays brings attention to the health and safety problems associated with binge drinking, particularly for young adults coming home for the holiday and visiting old friends. The campaign serves as a reminder for party hosts that providing alcohol to those under 21 is against the law. Youth will place stickers on in-store alcohol products to promote the prevention campaign.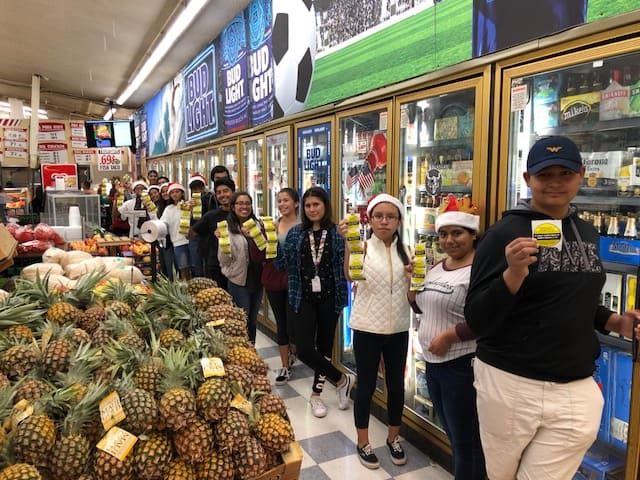 All San Diego County cities have social host ordinances, often called "house party laws." Violators can face fines, cost-recovery fees for police and emergency services, and potential jail time.
These laws
Make it illegal to provide an environment where underage drinking takes place, regardless of who
provides the alcohol.
Party hosts can avoid citations by: verifying the age of all guests, controlling access to alcohol to those under 21 and supervising minors. According to the latest CA Heatlhy Kids Survey data from Vista Unified, less then 15% of 11 th graders report drinking in the past month; but when asked how youth at their school who drink get alcohol, parties or events outside of school was the most common source (38%) (VUSD CHKS 2016-2017).
During the holiday season 2-3 times more people die in alcohol related crashes and 40 percent of traffic fatalities involve a driver who is impaired by alcohol
(https://pubs.niaaa.nih.gov/publications/RethinkHoliday/NIAAA_NYE_Fact_Sheet_2011.pdf ).
5,000 youth die each year from underage-drinking- related causes, including alcohol-related traffic fatalities, homicides, suicides, and other unintentional injuries
(https://pubs.niaaa.nih.gov/publications/arh283/111-120.htm).
Primo Market in Vista is a local spot to get party food, and a great location to kick off our Sticker Shock awareness campaign.About Primo Foods Vista
Primo Foods Vista is the location that started it all way back in 1994. Known for an immense selection of hot entrees that are made daily, the freshest fruits and vegetables straight from local farms, and a fantastic variety of bottled hot sauces.
Primo Foods Vista has a legendary outdoor BBQ every Friday, Saturday, and Sunday where you can get chicken, baby back ribs, 100% Certified Angus Tri-Tip and beef ribs hot off the grill.
Make sure to sample our chips and salsa before you go. Get there early on Taco Tuesday and Taco Friday to beat the rush and the crowd that line up for 69 cent tacos.
1535 W Vista Way
Vista, CA 92083 760-724-1483 http://primofoodsinc.com/vista/
http://www.northcoastalpreventioncoalition.org