— The Levitt AMP Escondido Music Series comes to an end on Saturday, November 3, 2018!
Headlining the final festival for 2018 is Las Cafeteras, who will be performing at 5:30pm with the opener, Dueto Dos Rosas starting everything off at 4pm!
Las Cafeteras have taken the music scene by storm with their infectious live performances and have crossed genre and musical borders. They create a vibrant musical fusion with a unique East LA sound and positive message. Their Afro-Mexican beats, rhythms, and rhymes deliver inspiring lyrics that document stories of a community seeking love and justice in the concrete jungle of Los Angeles.
Dueto Dos Rosas is two sisters, Emily and Sheyla Rosas, who fell in love with campirana music and want to bring it back to popularity. They sing every song with heart, and are proud of their roots and indigenous heritage.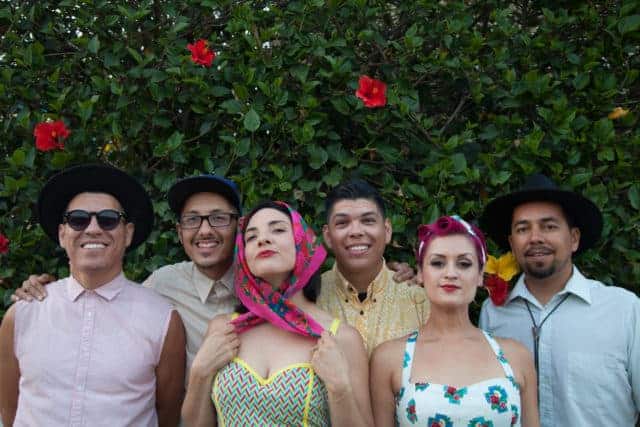 The Center was recently awarded the Levitt AMP [Your City] Grant Award to help transform their underused public spaces through the power of free, live music. While the program has been transforming cities across the nation since 2015, Escondido is the first city in California to be granted an award.
The Levitt AMP Escondido Music Series is generously sponsored by Escondido Wine Region, The San Diego Foundation, The San Diego Music Foundation, City Beat, Mother Earth, Nordson Corporation Foundation, Southern Exposure, Visit Escondido, Escondido Downtown Business Association and Museums & Arts Growing Escondido Culture (MAGEC).
This event is free and open to the public in the park, so you may want to bring a blanket or lawn chairs. Each "mini-festival" includes food trucks, arts and craft vendors, kids' activities, and other entertainers in addition to live music. We have a large, free parking lot that you can enter on Escondido Blvd. or Woodward Ave. Additionally, there is some street parking on Broadway at the East end of Grape Day Park. No alcohol, BBQs, or popup tents allowed in the park. All animals must be leashed.
Learn more at http://levitt.org
About the Mortimer & Mimi Levitt Foundation
The Mortimer & Mimi Levitt Foundation is a private foundation that exists to strengthen the social fabric of America. Through its support of creative placemaking, the Levitt Foundation empowers communities to transform underused public spaces into welcoming destinations where the power of free, live music brings people together and invigorates community life. The Foundation's primary funding areas include permanent Levitt venues and the Levitt AMP [Your City] Grant Awards, an annual grants competition. During the past decade, the Foundation has awarded more than $20 million in grants to support access to free, high-caliber live music experiences while bringing new life to public spaces.
The Levitt network of permanent outdoor music venues and AMP concert sites collectively serves more than half a million people annually through 450+ free, family-friendly concerts in 23 towns and cities. As an example of the high-caliber talent presented across the Levitt network, the 2018 GRAMMY nominees include 15 artists who have performed on Levitt stages in recent years.
Permanent Levitt venues are located in cities as diverse as Los Angeles; Denver; Westport, Conn.; Bethlehem, Pa.; Memphis, Tenn.; and Arlington, Texas. Each permanent Levitt venue presents 50 free concerts every year and is programmed, managed and supported by its own 501(c)(3) Friends of Levitt nonprofit organization, with Levitt Pavilion Los Angeles run by the Foundation. Due to accelerating interest from cities and engaged citizens, the permanent Levitt venue program is growing. Developing Levitt locations across the country include Dayton (opening 2018), Sioux Falls (opening 2019), and Houston (opening 2020), amongst other cities.
Learn more at http://levitt.org
About California Center for the Arts, Escondido
With a mission of bringing people together to discover, create and celebrate the arts, California Center for the Arts, Escondido is the cultural center of North San Diego County.
The Center's unique campus includes a 1,523-seat concert hall, a 404-seat theater, a contemporary art museum, art and dance studios, and a full-service conference center with meeting and banquet facilities. The Center also runs an extensive education program and produces free community events. San Diego Magazine named the Center the "Best Limited Engagement" in North County. The Center was named in the Top Five for U-T San Diego's Readers Poll for "Best Live Music Venue" and the Top Five for "Best Place to Get Married." In 2016, the Center was named "Organization of the Year" by the Escondido Chamber of Commerce. In 2018, the Center was chosen as one of fifteen cities from all over the country to be awarded a grant known as the Levitt AMP [Your City] grant. The Center received $25K in matching funds to present the Levitt AMP Escondido Music Series, which is a minimum of 10 free outdoor concerts presented over 10 to 12 consecutive weeks during 2018.
The Center is located at 340 N. Escondido Blvd. in Escondido. The Ticket Office can be reached at (800) 988-4253. Tickets can also be purchased online. To learn more, including performance dates, times, and ticket information, visit artcenter.org.