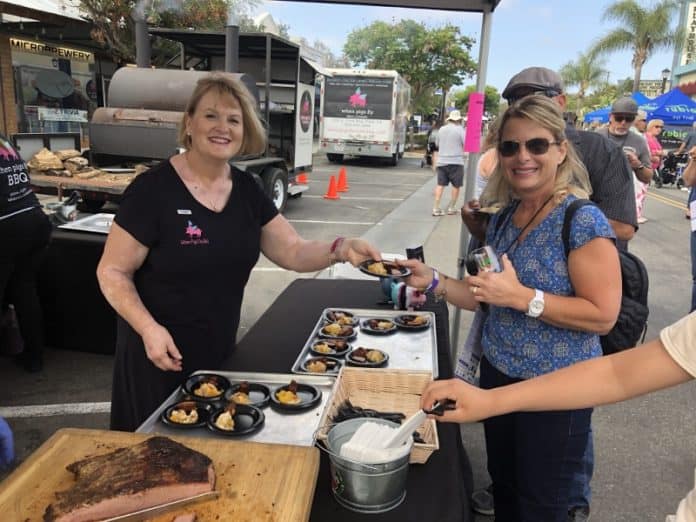 Ten years ago, an idea to bring Vista families to Historic Downtown was put into place. The Vista Village Business Association asked local restaurants to participate in the first "TASTE OF VISTA". It was a modest beginning. This years 10th Taste had 27 restaurants with 16 wine and craft beer Sip Stations. Groups of people roamed the streets from Citrus, up and down Main Street and Broadway and over to the Vista Village. Music filled the air with the Wildwood Bar and Grill jazz team and DJ Tyler. On the corner of Indiana and Broadway Ashley Hollander's soulful voice entertained an array of tasters and sippers moving around the Village.
CLICK ON ANY PHOTO TO OPEN GALLERY


Three years ago the coveted "Fork Award" was added. It is awarded by the Peoples Choice voting. 2016 was won by 'When Pigs Fly', 2017 was won by '508 Tavern', and this years winner was again 'When Pigs Fly'. Congratulations Dale and Tammy on your Award. Come visit the restaurant at 230 Main street. Bring your appetite and say Hi to Dale and Tammy. https://whenpigsflybbq.com/
CLICK ON ANY PHOTO TO OPEN GALLERY


Everyone that attended were not all from Vista. I spoke with residents from all over the 78 Corridor, Escondido to Carlsbad and Oceanside. Once again, Vista represented well. Vista is the Heart of North County.
The "Fork Award" will be presented To 'When Pigs Fly' the second week of July. Look for the VIDEO here at North County Daily Star.
Thanks to the Sponsors: North County Daily Star, Townsquare Realty Group, Wildwood Restaurant and Bar, US Foods, EDCO, Quality Lock and Safe, Bear Roots Brewing Co, Islands and Embroidery Image.
https://www.fivestarpremierevents.com/