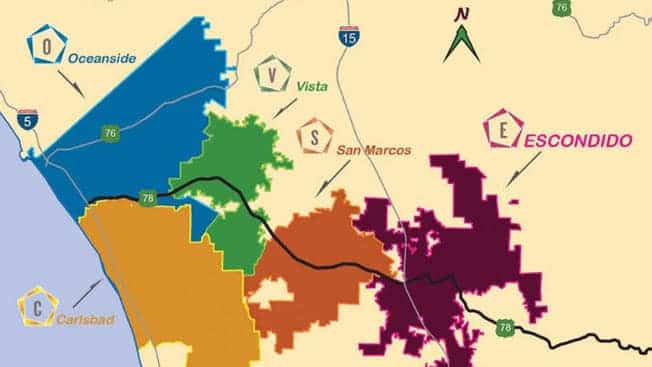 Several years ago, the mayors of the five cities along the 78 Corridor decided it was time to collaborate to grow their respective economies rather than compete.
Fast forward a few years, and the Innovate 78 was born. The goals of Innovate 78 are to retain and expand the existing businesses in our region, and raise the profile of the 78 Corridor to attract new businesses. The demise of California's redevelopment program has forced cities to think creatively about economic development. Innovate 78 is one of those creative strategies that truly leverages regional resources.
The cities of Escondido, Carlsbad, Oceanside, San Marcos and Vista partner with the San Diego Regional Economic Development Corporation to carry out the Innovate 78 work plan. At the brand launch in April 2015, the group unveiled www.Innovate78.com – a vibrant website full of fresh content promoting all the reasons why more and more companies are making the decision to locate and expand in North San Diego County.
In its relatively short lifespan, Innovate 78 has become a recognized brand in the region and is growing in recognition outside the area. The California Association of Local Economic Development (CALED) invited the mayors of the five Innovate 78 cities to participate in a panel discussion at their annual statewide conference in San Diego in March. It is clear that other cities want to know how to do what we are doing.
Innovate 78 promotes our region as a hotbed of innovation, works to attract skilled educated talent, connects businesses with higher education and industry specific resources, conducts studies to identify where we might find new opportunities and assists business in securing funding and tax incentives. I encourage you to go to www.Innovate78.com and engage via social media so you are kept informed to all the exciting things happening in North County's economic development scene.
http://www.innovate78.com/