The Boys & Girls Club of Vista invites the community to spread some Christmas Cheer to deserving Club families who could use a little help this holiday season through its Adopt-A-Family program.
Benefactors will receive a profile of their family along with the first names, ages clothing sizes, and "wishes" for each family member so they can provide the appropriate gifts. In addition to providing gifts for family members, sponsors include a grocery gift card for a holiday meal. Individuals, corporations or civic groups interested in "adopting" a family for the Holidays can request a sponsorship application from ellen@bgcvista.com, or by calling Ellen Clark at 760-724-6606 ext. 12.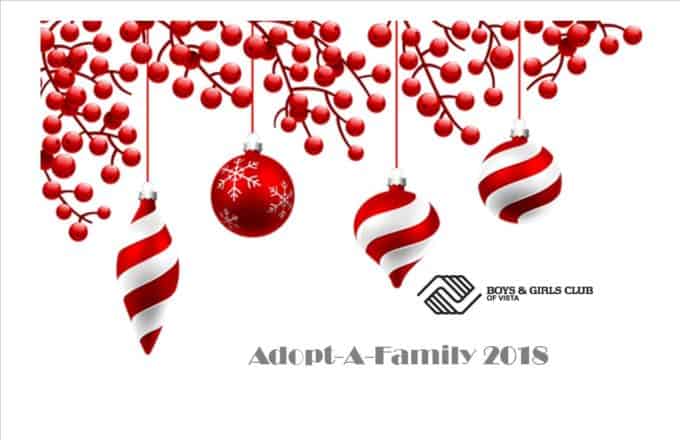 "Our mission is to enable young people, especially those who need us most, to reach their full potential as productive, caring, responsible citizens. A significant percentage of our kids' families are considered low to very low income as these are the kids who need us the most" said Dani Witkowski, Board President, "It's great to see the community support our kids by providing a memorable Christmas for them."
About the Boys and Girls Club of Vista
The Boys & Girls Clubs of Vista works to help youth of all backgrounds develop the qualities needed to become responsible citizens and leaders. The Club is committed to serving the needs of boys and girls 5 to 18 years of age during the critical hours when they are out of school and away from parental supervision. BGCV gives children what they need most: a safe environment where they can have fun and be themselves; adult role models who respect and listen to them; and interesting and constructive educational and recreational activities that channel youthful energy into challenging and productive pursuits.