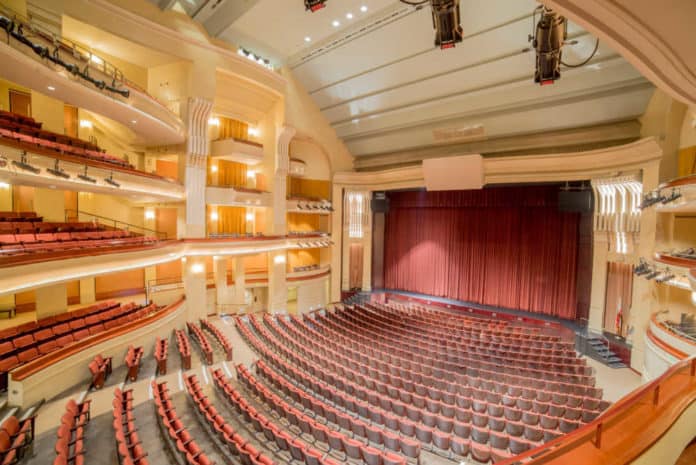 Escondido, CA. – November 23, 2017 — The California Center for the Arts, Escondido's Governance Committee has appointed two new members to their Board of Trustees, Sara Matta and Robert Leiter.
Mrs. Matta and Mr. Leiter will join Cynthia L. Weir, Chair, Robert Dudley, Vice Chair, Karen Jobe, Secretary, Andy Washburn, Treasurer, Chris Cochran, Bob Will, Judith W. Hamilton, Rorie L. Johnston, Halicia Y. Perkins, Steve Nelson, and Judy Tillyer.
Sara Matta has been a resident of the Escondido area for the past 30 years, and has no intention of leaving. Originally from Scotland, Sara came to America in 1969 and quickly became passionate about social justice, community organizing and the arts. She earned a Masters Degree in Social Work and Social Anthropology, which has already added to her unique ability to manage partnerships between the public and private sectors.

Mrs. Matta worked for United Way in San Diego and Los Angeles for over 30 years and became the CEO of 2-1-1 San Diego.
Sara was instrumental in creating the 2-1-1 community information services throughout North America. Now retired, Mrs. Matta has since returned to her art, painting and fiber art. She also enjoys seeing live music with friends and is especially a fan of live jazz.



Robert Leiter has had a distinguished career in city and regional planning for over 40 years. Working all over California, Robert was Planning Director for the cities of Ventura, Escondido, San Rafael, and Chula Vista. In 2003 Robert was appointed as Director of Land Use and Transportation for the San Diego Association of Governments. After leaving SANDAG in 2009,
Robert went on to consult with several organizations including the San Diego Unified Port District, Western Riverside Council of Governments, and the UC San Diego Planning Department.
Mr. Leiter was instrumental in the implementation of SB 375, California's pioneering climate change legislation, and in 2008 was elected to the College of Fellows of the American Institute of Certified Planners. He has served on the Board for the Center for Sustainable Energy, San Diego Habitat Conservancy, and Stay Cool for Grandkids, an organization dedicated to climate action advocacy and education. Robert and his wife have lived in North County for over 30 years, and currently reside in Poway.
About California Center for the Arts, Escondido
With a mission of bringing people together to discover, create and celebrate the arts, California Center for the Arts, Escondido is the cultural center of North San Diego County.
The Center's unique campus includes a 1,523-seat concert hall, a 404-seat theater, a contemporary art museum, art and dance studios, and a full-service conference center with meeting and banquet facilities. The Center also runs an extensive education program and produces free community events. San Diego Magazine named the Center the "Best Limited Engagement" in North County. The Center was named in the Top Five for U-T San Diego's Readers Poll for "Best Live Music Venue" and the Top Five for "Best Place to Get Married." In 2016, the Center was named "Organization of the Year" by the Escondido Chamber of Commerce.
The Center is located at 340 N. Escondido Blvd. in Escondido. The Ticket Office can be reached at (800) 988-4253. Tickets can also be purchased online. To learn more, including performance dates, times and ticket information, visit artcenter.org.