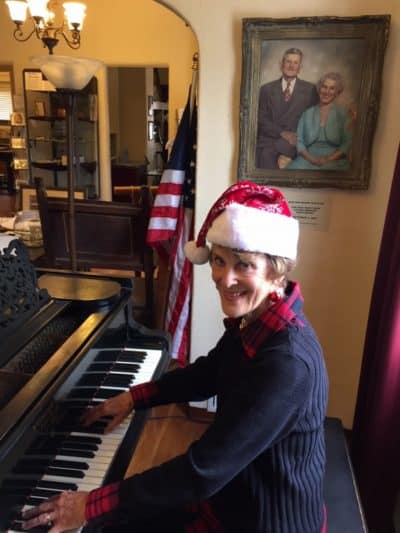 The Vista Historical Society will host Carol Graham, well-known Vista pianist and organist, along with her students leading Christmas carols for the entire family at the museum playing our 1898 Steinway Parlor Grand piano. Other instruments will be joining in the fun.
The festivities will take place from 2 p.m. to 4 p.m. Saturday December 23.
Refreshments will be served. Everyone is invited. Make plans to spend a joyful afternoon at the museum. So we will know how many will be with us, reservations are necessary. If you wish to attend please call 760-630-0444 by Monday December 18th.
Further information is available by calling the museum office at (760) 630-0444. Office hours are 8:00 a.m. to 4:00 p.m. Monday through Friday. The museum is open to the public from 10:00 a.m. to 2:30 p.m. Wednesday through Friday and the first and second Saturday of each month.
About The Vista Historical Society

A vital part of Vista's heritage is the Vista Historical Society's Museum at Rancho Minerva, where staff and docents preserve and honor the past while serving the present.
Our new museum is in itself an imposing part of Vista's history. It was built by Nick Huntalas, an indomitable Greek immigrant who came here in 1911 and dry-farmed acreage along what is now Foothill Drive. Ample water arrived in 1926, and there ensued a thriving community rich with groves and field crops.
By 1934, Nick and his wife, Bessie, had realized their dream home. It was constructed with adobe bricks fashioned from soil dug for the foundation. The imposing two-story home features a sparkling white exterior, a red tile roof, an 18-foot-tall living room ceiling and a number of inviting rooms that are now filled with memorabilia of early Vista and its dynamic residents.
Over the years, Vistans were warmly welcomed at Rancho Minerva for social events, and now it is the privilege of our docents to greet visitors and make them feel at home in this historic place.
RENT THE RANCHO MINERVA GROUNDS FOR YOUR EVENT