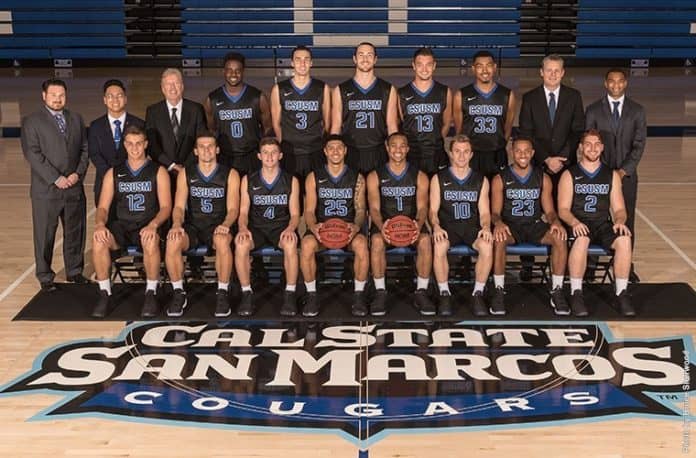 "I'm excited with what we've got," said Foster, who shed his interim tag as the Cal State San Marcos men's basketball coach this year. "I really like this team. I like how hard we compete and I like being around them."
The Cougars, picked to finish third in the California Collegiate Athletic Association preseason poll, open play on Friday against visiting Biola University. The following day CSUSM faces Concordia Irvine to cap the CCAA/Pacwest Conference Challenge.
2017-18 CCAA Men's Basketball Preseason Poll
Place School Pts
1 Chico State 137
2 UC San Diego 118
3 Cal State San Marcos 112
4 Cal Poly Pomona 110
5 San Francisco State 95
6 Cal State LA 81
7 Cal State Dominguez Hills 74
8 Cal State San Bernardino 72
9 Sonoma State 68
10 Stanislaus State 58
11 Cal State East Bay 39
12 Humboldt State 31
13 Cal State Monterey Bay 19
"When we put this team together last year, it was really a two-year goal of where we wanted to be," Foster said.
Round and round the Cougars went in 2016-17 with a known stop sign awaiting. With the squad making the transition to NCAA Division II, it was ineligible for the CCAA playoffs despite an 18-10 record, including a 12-6 conference mark.
But spring came and went with CSUSM only able to put its nose on the playoff window and wonder what might have been. That's not the case this season as the Cougars' sights are on playing in March.
"That just puts another dynamic into it and the players are putting in the hard work to get into the postseason," Foster said. "Hopefully we can perform, play as a team and win."
Foster's bunch has four returning starters, three of whom were All-CCAA selections. Among them is senior guard Ethan Alvano, who was one of the conference's top players last season.
Alvano, a 6-foot-1 transfer from Eastern Michigan University, paced the CCAA in points per game (17.9), assists (5.6) and was second in steals (2.2). His 36 points in a double-overtime win versus Cal State East Bay set a school mark. His 14 assists in another victory against Stanislaus State tied a CSUSM standard.
"He's just a terrific, terrific leader," Foster said. "And he's come back in great shape."
Alvano is fit and he's not fiddling around.
"We definitely set some high goals for the team with the playoffs being in the forefront," Alvano said. "It's extra motivation for a lot of us this season."
Despite Alvano's numerous skills, CSUSM isn't a one-note team.
There's 6-8, 215-pound Joe Boyd doing his thing on the boards. He averaged a double-double last year, devouring shots that went in-and-out. Boyd, a senior forward, notched 10 rebounds per game, which set a school mark, and collected 280 overall, another CSUSM record.
"He is the epitome of a workhorse," Alvano said. "He just works his tail off for those rebounds and he's pretty automatic when finishing shots at the rim.
"He's the motor for our team. If he's running hard and going hard, it gives guys the energy and enthusiasm to work as hard as he's working. He inspires us."
So does the 6-7, 195-pound Josh Spiers, whose game comes with an accent. The sharp-shooting senior guard who's from Down Under is often stationed above the 3-point line. The Aussie converted 48.8 percent of his 3-pointers, which was second in the CCAA.
"He played all summer against good competition and he is much more athletic and is moving a whole lot better than he was last year," Foster said. "He has really improved, and he was already a really good player. He is going to help us."
Well-rounded senior guard Brian Wright is back, too, after averaging 8.9 points per game last season.
It's a squad that can shoot, although its aim this season includes the postseason. The Cougars ended last season with a two-game losing streak and Foster knows why.
"When you're not going to the playoffs, the guys were thinking about what their plans were for spring break," Foster said. "There was no sense of urgency."
That demeanor was replaced by a team-wide determination to reach the postseason.
"I can't wait to get started," Alvano said. "The opener has been circled on my calendar for a long time."