By Roel Godinez –
On Saturday, the 26th of January, California's Congressman for the 49th district, Mike Levin, held his first town hall meeting in Oceanside High School's Performing Arts Center. At 2:00 p.m., the red seats within this brand new auditorium began to fill with a diverse crowd of spectators, many wore Mike Levin gear while some donned Make America Great Again caps. Congressman Levin is a freshman in the House of Representatives and is determined to support Democratic policies amid the Trump Presidency.
"Thank you very much for being here," he began amid the cheers. "I want to begin by thanking our incredible team that put this together, our friends here in Oceanside, the Police Department, our wonderful campaign staff, Ellen Montanari (Levin's rally Organizer), and the students of Oceanside High School."
Representative Levin went on to address the topics he found most pressing. His two primary points were the government shutdown, which was suspended for three weeks as of January 25th, and the safe dismantling of the San Onofre Nuclear Power Plant, which has been shut down since 2013.
"I hope that you are as happy as I am that President Trump reopened the government for twenty one days. We have to make sure that we do not have a precedent where every time we have a partisan discussion or disagreement, we shut down the government, because it will happen again and again and again." After expressing his concerns over furloughed Federal workers, he discussed his willingness to reach a bipartisan agreement that would strengthen border security through technological means rather than a wall. Levin voted to reopen the government eleven times during the shutdown and is likely to push for an agreement before the three week period ends.
"Despite the fact that this has taken up a lot of our time and has been quite a distraction, we have still hit the ground running. Just yesterday we announced the creation of a San Onofre task force to deal with the waste on our beaches. It is co-chaired by the former head of the Nuclear regulatory commission under President Obama, Greg Jaczko, along with retired Navy Rear Admiral, Len Hering." Mike Levin is so focused on environmental cleanliness and because he lives close to the plant, he has made it his mandate to prevent a nuclear catastrophe from occurring. Scientists estimate that a meltdown would cost billions and the surrounding area would be destroyed.
Before opening for questions, he listed a few of his accomplishments from the past month, much of which were proposed legislation that follow Democratic ideals. For example, he is in support of Medicare for All, more funding for wildfire prevention, and programs that can ensure racial and sexual equality. He was also assigned to the House Veterans Affairs Committee and the House Natural Resources Committee.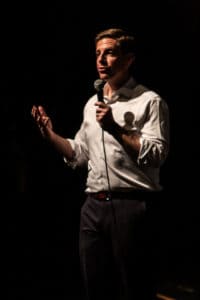 As the Q & A session began, participants rose from their seats and lined up to speak at the two microphones that were stationed on the left and right sides of the room from where Congressman Levin answered questions from alternating sides. Each person had a minute and a half to ask a question, most of which were delivered passionately. Many concerned citizens asked about the local environment and climate change, which the Representative was more than happy to respond to. He elaborated on how he would work toward lowering carbon emissions and introduce more sources of renewable energy to Orange County and San Diego. San Onofre emerged as a consistent point of interest. Mike Levin's liberal economic strategies, such as the fight for a $15 minimum wage and extensions on health care benefits, also came into question. He then followed this with a plan to reverse Donald Trump's tax cuts for the wealthy.
Many of those whose questions were answered were satisfied with the responses they received and thanked the Congressman, others however, felt some distaste with the answers they were given. In one instance, a man who felt that his question on the topic of free speech was not adequately answered grew so frustrated that he left the auditorium in a huff. Yet the questions continued until Levin's staff informed him that this town hall meeting's time had come to an end, with many residents still in line. As the event came to a close, the crowded filtered out, leaving him to speak with a few stragglers. He plans on having monthly town hall meetings to keep his ties with San Diego and Orange County strong.
"It's incredibly important to me that we have an ongoing dialogue. My grandmother used to tell me I have two ears and one mouth and I should use them accordingly, and that's what I intend to do. I'd rather err on the side of communicating too regularly, too transparently, with more accountability rather than the opposite."