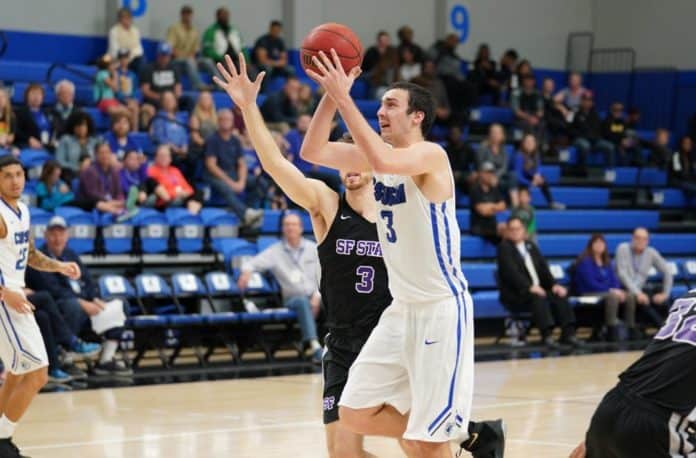 SAN MARCOS, Calif. – The Cal State San Marcos men's basketball team recorded a come-from-behind victory to defeat San Francisco State, 86-76, Sunday afternoon in California Collegiate Athletic Association (CCAA) play inside The Sports Center to close out 2017.
CSUSM closed out the game going 17-of-28 (60.7 percent) from the field including 7-of-13 from behind the arc to help erase a 15-point deficit.
With their fourth straight win, CSUSM improves to 10-2 overall and 5-1 in CCAA play while SF State drops to 7-6, 4-4 CCAA.
Offensively, CSUSM was led by senior Josh Spiers who finished with a team-high 24 points on 9-of-17 shooting including five 3-pointers. Sophomore Jason Simmrin tallied a season-high 19 points and four rebounds in 31 minutes off the bench.
The Gators shot 28.6 percent (8-of-28) from the field including just 1-of-13 (7.7 percent) from the perimeter in the second half. CSUSM forced 12 turnovers on six steals including a team-high three from senior Brian Wright.
Brantley Bynum led SFSU with 17 points while playing in a team-high 30 minutes.
The Cougars will welcome 2018 with a matchup against last season's defending West Region Champions, Chico State, on Friday, Jan. 5 inside The Sports Center. Tip-off is set for 7:30 p.m.