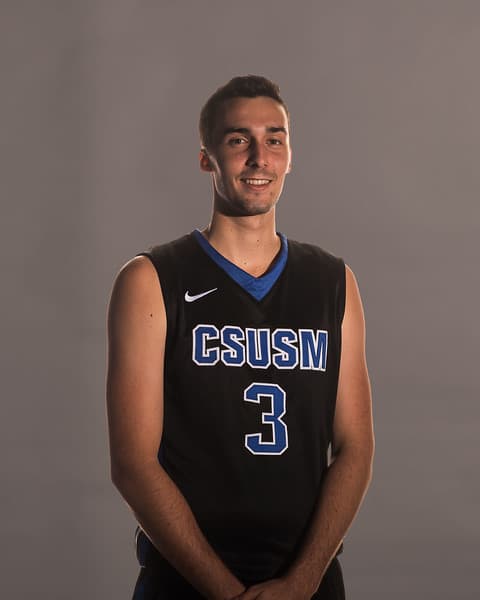 Cougars Fall in CCAA Battle At Chico, 71-63
2/17/2018 | Men's Basketball | Box ScoreCHICO, Calif. – In a highly anticipated California Collegiate Athletic Association (CCAA) matchup, the Cal State San Marcos men's basketball team fell to Chico State, 71-63, at Acker Gymnasium on Saturday night.
The Cougars drop to 19-7 overall and 14-6 in CCAA action. On their own senior night, the Wildcats improve to 18-6, 15-5 CCAA.
Tonight's game marked the seventh in the last 16 days for CSUSM including the fifth on the road.
Following a 28-point scoring performance on Thursday, senior Josh Spiers registerd 24 points on 10-of-19 shooting including seven rebounds and four assists in 34 minutes. Classmates Joe Boyd and Ethan Alvano were the only other Cougars reaching double-digits in points with 15 and 10 , respectively.
Trailing 39-29 at halftime, a 16-9 CSUSM run out of the locker room cut the Wildcat lead to 47-46 with 12:28 left in the second half.
The Wildcats would stretch their lead to as large as six points with 8:29 remaining. CSUSM then rattled off three straight baskets to shrink the deficit back to just one point, 57-56, following a free throw from senior Collin Host at the 5:21 mark. This was the closest CSUSM would get for the remainder of the game.
CSUSM forced 12 Wildcat turnovers and outscored Chico 17-6 on points off turnovers.
The Cougars shot 41.3 percent (26-of-63) for the game including 8-of-22 (36.4 percent) from behind the arc.
Corey Silverstrom led the Wildcats offensively with 17 points in 34 minutes.
CSUSM will conclude its 2018 regular season schedule with a pair of home games against Cal State L.A (Feb. 22) and Cal State Dominguez Hills (Feb. 24). Both games are scheduled for 7:30 p.m.