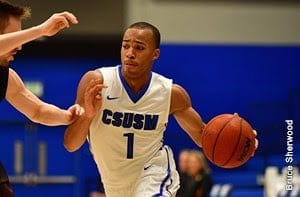 CSUSM Win Streak Snapped by HSU; 81-78
1/6/2018 | Men's Basketball | Box Score
SAN MARCOS, Calif. – The Cal State San Marcos men's basketball team saw its five-game win streak come to an end as the Cougars fell to Humboldt State at home, 81-78, on Saturday night in California Collegiate Athletic Association (CCAA) play.
It was a tale of two halves as both teams shot an identical 42.9 percent from the field in the first half, but it was CSUSM shooting just 34.2 percent in the second half while HSU went 15-of-24 (62.5 percent) from the field including 75 percent (6-of-8) from behind the arc.
The Cougars fall to 11-3 overall and 6-2 in CCAA play while the Jacks improve to 6-10, 3-7 CCAA.
Senior Brian Wright finished with a season-high 24 points on 9-of-15 shooting including six rebounds and four assists. Playing all 40 minutes, senior Ethan Alvano scored 21 points while dishing out five assists.
CSUSM trailed by as many as 12 points with 6:57 remaining in the second half before trimming it down to as little as a three-point deficit with :11 seconds remaining. HSU's Ashton Pomrehn was unable to convert on a key free throw. The Cougars had one last chance but a missed game-tying 3-pointer from Alvano ended the game.
The Lumberjacks were led offensively by Davaysyia Hagger who scored 23 points.
The Cougars will hit the road to take on CCAA opponent Cal State East Bay on Thursday, Jan. 11 at 7:30 p.m.