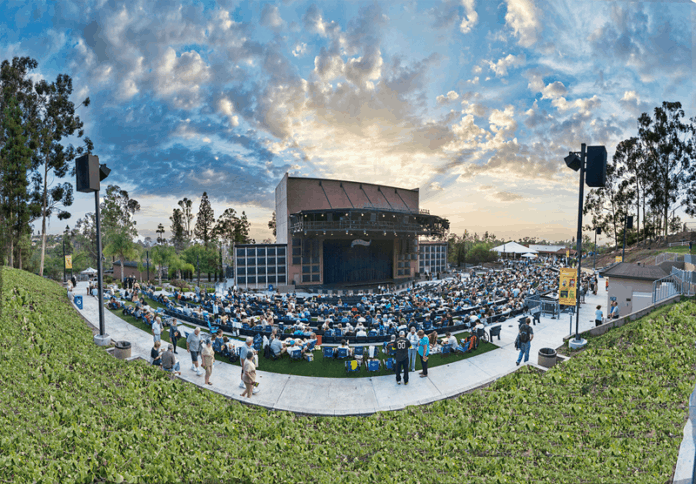 Can we be honest and just come right out with it? As parents of young children we admit any activity we do together as a couple, without kids (examples: sitting in a car without screaming, filing taxes, giving blood just to name a few) can feel like a relaxing getaway. This is a sad reality for most parents with little ones and can lead to some lazy date nights.
Well, we decided to end the mundane by upping our date night game. How you ask? With some "Mamma Mia!" at the beautiful Moonlight Amphitheatre. Nothing screams fun better than a live orchestra blaring 'ABBA' into the warm summer air!
As we approached our destination, one of the first things we noticed was how easy it was to get in and out fast. Parking is abundant and makes you think you might be at the wrong place. You're not.
We entered the theater and were immediately impressed. Moonlight has small town charm with big production feel. Twinkling lights, a slight breeze and the warm buzz of conversation created a contagious atmosphere of excitement for the show. We pulled out our picnic of thai food and Lacroix and it was easy to fall into the hundreds of other picnickers doing the same.
Overall, the setting of the stage was smart and believable, making you feel like you were on a Greek Island. One more bite of thai drunken noodles and the lights begin to dim. It was show time! Music from the orchestra filled the amphitheatre with a full and generous sound. It was surprising to find out the orchestra was made up of only nine musicians lead by the talented Lyndon Pugeda.
The show started slow, but it didn't take long to introduce a major conundrum. Daughter Sophie (played by Katie Sapper) hatched a secret plan before her wedding. In attempts to have her dad walk her down the wedding aisle, she invites the three possible candidates to come unknowingly to the island. Sophie's mother Donna (played by Bets Malone) was surprised to say the least to be re-introduced to three old flings from over 20 years ago. Donna's two former back up band members from "Donna and the Dynamos" have also traveled to the island to help and provide a hilarious supporting cast of midlife fun. Sophie's secret doesn't last long and the story unfolds beautifully through the songs of the band 'ABBA'.
Katie Sapper was excellent as young Sophie and Bets Malone hit a highlight for us with her song "The Winner Takes It All."
As good as the singing was, the dancing was equally great with a talented ensemble. Dance number "Lay All Of Your Love On Me" had us in stitches. Good thing we left the kids at home because there was a bit of bumping and grinding dance numbers that I'm sure would've required some interesting conversations with our two young boys.
"Mamma Mia!" will get you belly laughing, disco dancing, and before you know what's happening, singing "Take a Chance on Me" at the top of your lungs. The cast makes you feel like you are part of the show, especially with the surprise end of performance Encore. The entire audience was on their feet singing and dancing along with the cast for an unforgettable performance from "Donna and the Dynamos." Don't believe me? Ask the gentlemen with the two broken arms in front of us disco dancing and singing "Dancing Queen" at full volume. From start to finish, this was a date night we will not soon forget.
A date night at Moonlight is a sure win every time! So spice up your date night this month and head to the gem of Vista, the Moonlight Amphitheater.
By Connor and Bri McFadden