Vista's Broadway Theater Presents Dancing Lessons Nov 1-18
November 1, 2018 @ 7:30 pm

-

November 18, 2018 @ 2:00 pm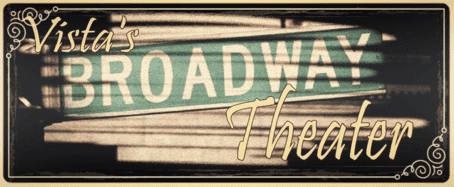 Well, the Broadway Theater's 14th Season of shows is not a memory. Hello to season 15!!!
We could not be more excited about what we have in store for you in the coming months.
Dancing Lessons centers on Ever, a young man with Asperger's syndrome, who seeks the instruction of a Broadway dancer to learn enough dancing to survive an awards dinner. The dancer, Senga, however, is recovering from an injury that may stop her dancing career permanently. As their relationship unfolds, they're both caught off-guard by the discoveries – both hilarious and heartwarming that they make about each other and about themselves.
Tickets for our Broadway Theater plays are $25.00. All Seats reserved. Thursday thru Saturday at 7:30 p.m. and Saturday and Sunday at 2:00 p.m.
Purchase this show as part of a package and save!
If you are not in our mailing list data base send us your address and we will make sure you don't miss out on any of the fun. Email your address to:
broadwayvista@gmail.com
Thank you for your continued support of the Broadway Theater.
Randall Hickman and Douglas Davis – Owners / Vista's Broadway Theater