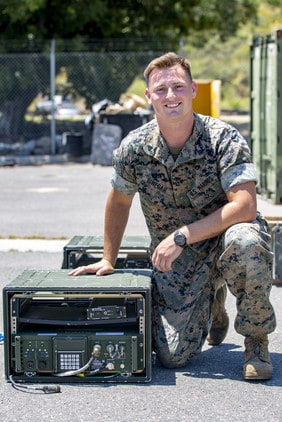 By Cpl. Dylan Chagnon| Marine Corps Base Camp Pendleton
MARINE CORPS BASE CAMP PENDLETON, Calif.
Legacy and tradition are some of the trademarks of United States Marines. Upon entrance to this reputed organization, Marines become part of a tradition of men and women whose mettle in both peace and war is confirmed by its history, and when they leave, their legacy will be defined by what they gave back to the Corps. Corporal Dillan Binegar believes his legacy will be the Marines he mentored.
Born in Chillicothe, Ohio, the only town in its county, Binegar grew up living a small town lifestyle. After graduating high school he had dreams of serving his country and enlisted into the Marine Corps in 2015 as a radio operator.
"Most of my family growing up had gone to college, so I decided I wanted to do something different," said Binegar. "I decided to join the military, and then I figured if I'm going to do it, I'm going to go all the way, so I chose the Marine Corps."
He initially wanted to become an infantryman, but after being informed that there were no openings in that occupational field, he chose to be a radio operator in hopes of deploying and still being able to assist infantry Marines.
Sure enough, his hopes became reality.
After graduating from recruit training (and radio operators course?), Binegar deployed with the 31st Marine Expeditionary Unit, serving as a section radio operator attached to 1st Battalion, 1st Marines.
"I got a little bit of both worlds [while on deployment]," said Binegar. "I was the main radio operator for the section I was with, so in addition to establishing and maintaining communications for them, I was still able to go on hikes, shoot all the guns and do all of the stuff that they did."
After more than six months of conducting operations in multiple countries, he returned to the U.S., where he would be reassigned to Headquarters Company for the regiment, working alongside other Non-Commissioned Officers (NCO's) to train new and future radio operators to ensure that the Marine Corps has quality Marines in a role very essential to the ground combat element.
This was when he believes his legacy began.
"This job is very important, which is why the other NCO's and I take it so seriously," he said with a voice of determination. "This job isn't for everyone; it can be extremely stressful, people are going to be yelling and looking at you to do your job, because ultimately a Marine's life can depend on it."
His daily routine consists of training junior Marines on the various radio systems; ensuring they know every button and frequency, while conducting physical training to maintain their fitness and providing mentorship and guidance to what seems like a new world.
"It's definitely different to me, but I like it," he said enthusiastically. "It's a good change. I give them all of the knowledge that was given to me by my Corporals and Sergeants, while also giving me time to focus on myself as I transition out of the Marine Corps."
As his time in the Marines comes to an end, Binegar's main focus is setting himself up for success. But as he looks through the rear-view mirror, he is certain that he did in fact, uphold the legacy and tradition that makes the Marine Corps what it is.
"It definitely felt good being in the Marine Corps and leaving my mark as I move forward in life," he said as he reflected back on his career. "I know that I trained my Marines up the best that I could, and knowing that one day when they're NCOs, they'll pass on the knowledge to their Marines that I gave to them. I'm definitely proud to have served my country, and knowing that I left a mark that will carry for future generations, it feels real good to me."