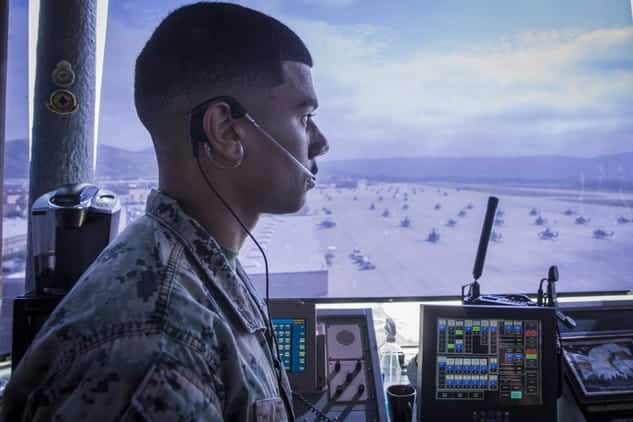 By Lance Cpl. Andrew Cortez| By Lance Cpl. Andrew Cortez| Marine Corps Base Camp Pendleton MARINE CORPS BASE CAMP PENDLETON, Calif. —
Marines are expected to put out their best and never give up. Motivation is what drives people to do great things, and it is motivation that leads U.S. Marine Lance Cpl. Kareem Hitt, an air traffic controller with Headquarters and Headquarters Squadron, Marine Corps Air Station Camp Pendleton, to excel in the Marine Corps and his job.
Hitt was born and raised in Orlando, Florida. With the exception of his mom, everyone in his immediate family is a Marine. Before Hitt joined the Marine Corps himself, he didn't know what career field he wanted to go after.
"I was going through the different jobs, and when I finally found out what an air traffic controller was, I wanted to try it out," Hitt said. "I wanted a job that would help me transition into the civilian world when I get out."
After locking on his job, Hitt left for Marine Corps Recruiting Depot Parris Island, South Carolina, in August 2017. Upon graduating boot camp, he then went to complete his military occupational specialty training in Pensacola, Florida, after which he reported to his first duty station at MCAS Camp Pendleton on Marine Corps Base Camp Pendleton, California, in June 2018.
Since then, Hitt has been a certified air traffic controller for a year and is continuing to grow. He has qualified in various positions, including tower flight data, tower ground control and radar controller. Due to his ambition to better himself, he has also been selected to train for a major qualification, a level of qualification normally reserved for more senior enlisted Marines.
"One of Hitt's strong suits is that he has the ambition to continue training on different positions," said U.S. Marine Cpl. Chance Ylinen, an air traffic controller that works alongside Hitt at MCAS Camp Pendleton. "A lot of people will get stagnant. It's very rare to find a Marine who has such drive and work ethic like him."
As an air traffic controller, a Marine is expected to gain and maintain proficiency in their job through training. There are many qualifications in each MOS that need to be completed before a Marine can gain responsibility. Hitt got tired of waiting around for a spot to open up, so he went to get qualified in another section.
"My goal is to get facility rated here, which means to get all the (qualifications)," said Hitt. "Since there were no spots open to train on upstairs, I decided to go downstairs. I wanted to keep training and not plateau."
In air traffic control, there are many things to learn about. The air traffic controllers are in charge of helping pilots take off in their aircraft and bringing them safely back onto the runway. When traffic is high on the flight line, pilots require assistance to maneuver through it all. There are many different scenarios of what could happen on a runway and how they maneuver aircraft.
"My favorite part of the job is being on position and listening to other positions, always asking questions and getting better and better everyday, you never stop learning," Hitt said.
In addition to his normal responsibilities as a controller, Hitt is also an on-the-job-training instructor. Hitt is qualified to train other Marines, from junior enlisted to officers, due to all his qualifications.
"Its important that I give my 100 percent to other Marines so that they become better than me," said Hitt. "That's my goal, I want them to be better than me when they become qualified."
Hitt is currently training on getting his major qualification. Once he is done getting that qualification, Hitt plans to move to other positions to get every qualification he can. His ambition to constantly better himself and ability to lead and teach as a junior Marine sets the foundation for the quality of air traffic controllers to come. His drive led to Hitt being selected as the air traffic controller of the quarter for third quarter, fiscal year 2019.
"It shows that he is above his pay grade," said U.S. Marine 2nd Lt. Tyler Davis, Hitts' crew officer and immediate supervisor. "The way that he can do these things now, it really sets us up for the future when he passes down his knowledge to other Marines."