First Friday Art Walk Oceanside is partnering once again with the SpringHill Suites by Marriott, 110 N. Myers St., on Friday, September 7th from 5:00pm – 9:00pm.
"Our Art Walk events held at Spring Hill Suites by Marriott are always our best attended and this month's event will be no exception. We have over 70 local artists, musicians and food/beverage vendors who will be occupying the downstairs lobby and second floor roof deck and anticipate more than 1,000 people attending," says Susan Brown, president of the Oceanside Friends of the Arts.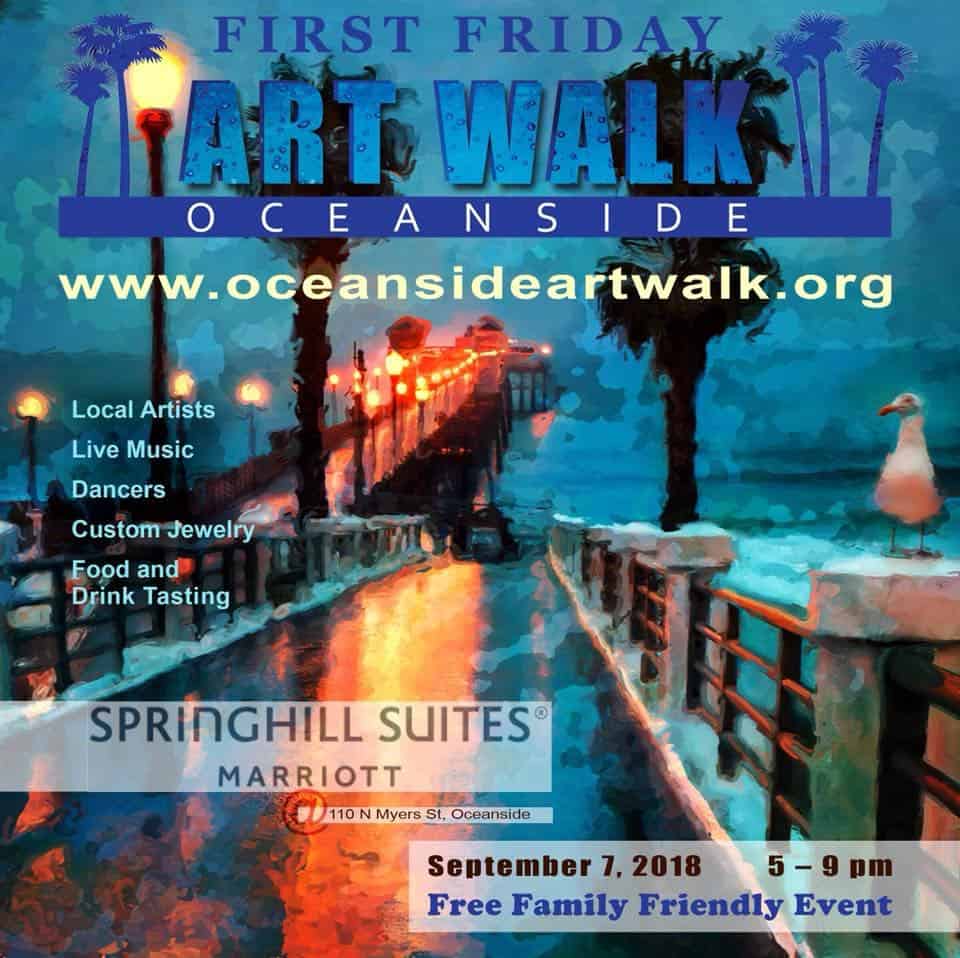 Visitors will have the opportunity to purchase a wide variety of original artwork from local artists and artwork raffles benefitting "Dollars For Dreams", will be held on the second floor of Spring Hill Suites. Local participating businesses include Whitlock Surf, Century 21 and Harcourts Properties. Complimentary raffle tickets will be available at Century 21 for a free Beach Cruiser and at Whitlock Surf for a free Family Pack of Surf Lessons, when you stop by their tables in the south lobby of the Spring Hill Suites. Doughside Donuts, Misadventure Vodka, Golden Coast Mead, Masters Kitchen & Cocktail and Hello Betty will also be serving complimentary samples from their menus.
Steelin' Tin Band will perform upstairs on the Hello Betty upper deck. Singer-Guitarist Melody Mejia will debut as an Art Walk performer on the south side of the upper deck. Steve Davidson will be crooning in the south lobby. And Aki Burkes will lead his hypnotic drum circle by the fire pit near the main hotel entrance.
This is a free, family friendly event. Free parking is available at the transit center parking structure on Seagaze Dr.
About Oceanside Friends of the Arts
The Oceanside Friends of the Arts (OFA), a Non-Profit 501c3 Foundation, was initiated in 2016 with the goal of establishing Oceanside and surrounding communities as an important arts, culture, entertainment and tourism hub/destination that catalyzes economic prosperity and a high quality of life for Oceanside's future. The Oceanside Cultural District was recently selected as one of California's 14, premier state-designated cultural districts by the California Arts Council. As part of it's primary mission, OFA recently awarded two $500 scholarships to high school graduates to help further their art education at the collegiate level.
About Oceanside SpringHill Suites by Marriott
Located at 110 N. Myers St. in downtown Oceanside, SpringHill Suites is the top choice for the California traveler who seeks unique. Take in sweeping views of the Pacific, take a dip in our rooftop heated pool or walk along the historic Oceanside Pier and feel the charming sea breeze. From breathtaking views to friendly service, our beachfront hotel has everything you need for a stress-free Southern California getaway.
About Dollars for Dreams
Dollars for Dreams was launched by Spring Hill Suites by Marriott parent company, Sage Hospitality, in July 2002. Initially the program allowed guests the option of contributing $1 for each night of stay, or any other specified amount, to a designated charity each quarter. Today, the program includes guest donations, employee paycheck contributions and special events such as Bingo nights, bake sales, auctions and dinners at its properties nationwide. To date, over 2.1 million dollars has been raised and the program has brought much needed positive awareness for the designated charities.