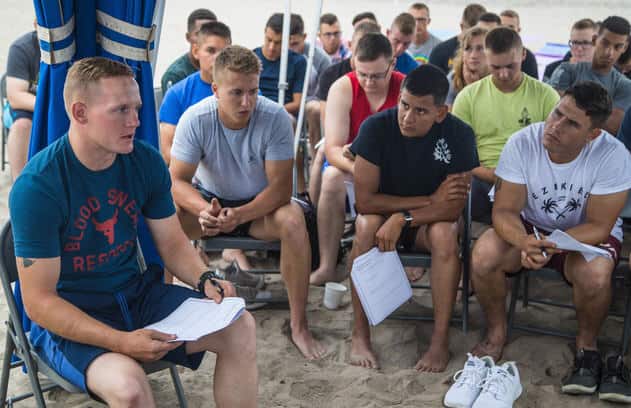 By Lance Cpl. Kerstin Roberts | Marine Corps Base Camp Pendleton
"Don't be afraid to try it," proclaimed Staff Sgt. Molly Koman, platoon sergeant, 3rd Assault Amphibian Battalion,1st Marine Division (1st MarDiv). "With the 21 Area Mentorship Workshop Program, all are welcome. It's a great opportunity to learn from Marines of different ranks; learning how to be better leaders so we can mold others to exceed the expectations that we have for the future of the Marine Corps."
Capt. Tonie Williams, logistics officer, Assault Amphibian School Battalion (AAS Bn), 1st MarDiv, created the 21 Area Mentorship Workshop Program in June of this year. The workshop is held at the Del Mar Beach Resort bi-monthly and open to anyone who has base access.
The program's mission is to encourage leaders to strive to be their best self by bettering one another mentally, emotionally, physically and spiritually. Overall this workshop prepares leaders for some of the unique challenges they could potentially face in constantly changing environments. The course introduces participants to diverse training, perspectives and resources that show leaders how to improve their skills in working with co-workers and peers in their everyday lives and professional careers.
"My intention is to work from the inside out because there are so many different types of leaders," Williams said. "I really want to create that space for people to start or keep exercising that [mental] muscle as a leader."
The 21 Area Mentorship Workshop Program works to unite Marines, Sailors and civilians from all walks of life, both personal and professional on MCB Camp Pendleton. They are encouraged to work and learn from one another to gain new perspectives in achieving goals. The program additionally focuses on different types of spiritualties to create stronger self-awareness.
The workshop typically begins with a group activity called "the human knot," which promotes teamwork and communication, and then immediately followed by team discussion. The participants then conduct yoga, also lead by Williams and Anna Packham, a yoga instructor with Marine Corps Community Services. After yoga, attendees are given an hour for lunch and a discussion about nutrition. The next activity called "the perfect circle," is designed to strengthen leadership skills before concluding the workshop with one more group discussion.
"The yoga was my favorite," exclaimed Pfc. Cameron McCain, assault amphibian vehicle technician, AAS Bn, 1st MarDiv. "The yoga was unexpectedly hard. Some were better than others but I think that's part of the lesson. Not everyone is equal, but we all still have to do our best."
Williams said that working on spiritual fitness gives her a clear understanding of her goals. This in-turn, creates a better relationship with her Marines where she is able to understand and respect that everyone is unique.
"You hear the saying that we have to be a well-rounded Marine all the time," Koman said. "Most of the time, it's misconstrued as we have to get a 300 on our [Combat Fitness Test], be an expert on the range, and get your [Professional Military Education] done. You also need to practice your core beliefs and values. It's important to have those building blocks as an individual so that when you go into work and you have to lead others, you'll be ready because you've already taken those steps."
For more information on the 21 Area Mentorship Workshop Program or for registration inquiries, email Capt. Williams at tonie.williams@usmc.mil or Staff Sgt. Koman at molly.koman@usmc.mil.