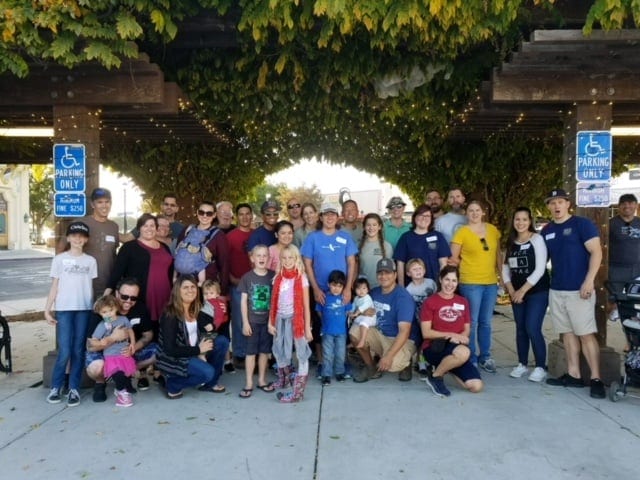 On November 18, 2017, a group of 30 plus volunteers from North Coast Church began the process of decorating Historical Vista Village for the Christmas celebration season. For the last five years, the Community Service Program at North Coast Church has invited volunteers to decorate the trees, bushes and light poles. This year they wrapped the newly installed street lamp poles with LED rope lights.
CHICK ON ANY PHOTO TO OPEN GALLERY


Connor McFadden, North Coast Church Community Service Pastor said, "This is a service project that they look forward to each year."
The Vista Village Business Association is responsible for decorating Historic Downtown Vista. Executive Director, Jeffrey Frankel from the VVBA said, "We are so grateful for the volunteers of North Coast Church."
Lights were strung on 38 trees, 24 lampposts, the Main Street gazebo and they also wrapped lamp posts with Christmas ribbon and bows up and down Broadway. The gazebo on the corner of Main Street and Indiana was the central hub for all the volunteers and the children were able to do crafts and projects while their parents installed all the lights and ribbons. There was a need for ladders and North Coast Church went to Pauley Equipment Company rentals at 348 N. Santa Fe. Ave., who donated the cost of renting the ladders. Nathan at Pauley said, "We were glad to help the community with this volunteer project."
Historic Downtown is getting prepared for the kick off the Christmas holiday this weekend. This wonderland celebration starts on Friday, December 1st for First Friday. Stores in the Village stay open late and have special offers. Avoid the crowds at the mall by shopping locally. Come visit the many retail stores in the Village, such as dress and gift shops, breweries, wine tasting, pizza, Mexican food or have a steak at The Vista Village Pub.
WIN GREAT PRIZES FOR EVERY $ 5.00 OF SALES TAX TO RECEIVE A FREE TICKET TO WIN AMAZON ECHO
The Vista Chamber of Commerce hosts the Christmas Parade on Saturday December 2nd. Come join us for our 59th Annual Vista Christmas Parade! The Parade will start at 1:00 pm.
The parade route starts at Civic Center parking lot, turns right on Eucalyptus, right on S. Santa Fe, right on Broadway, left on Citrus, left on Main Street and ends at the Wave Waterpark.
Parking can be found at Cinepolis, the Wave, side streets and parking lots. No parking will be available at the Civic Center, the Library or along the downtown parade route.
The VVBA Winterfest festivities begins on Sunday December 3rd from 12:00 – 8:00 pm, with the Annual Christmas Tree lighting at Cinepolis at 5:30 pm.
LINK
Bring your family to shop and join in on all of the festivities.