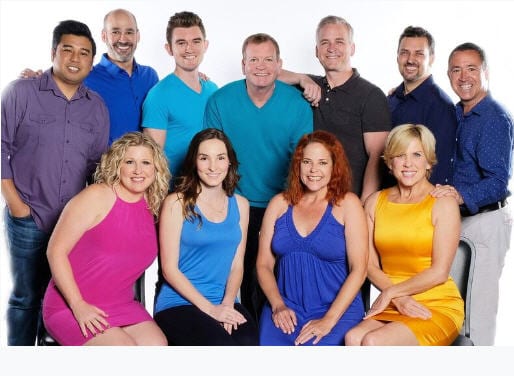 By Marcia Manna
If the infectious dance music from the Swedish pop group ABBA weren't enough, "Momma Mia!," Moonlight Stage Productions' 38th season's opening musical (June 13-30, 2018), delivers a heart-warming story with a surprise ending.
The story centers around young Sophie (played by Katie Sapper), who is making wedding plans and wants the dad she never met to walk her down the aisle. After reading her mom's diary, she guesses that her father is one of three gentlemen her mom named as former lovers. Sophie secretly invites them all to the Greek island where her single mom, Donna Sheridan, (played by Bets Malone), has been supporting her as the owner of a small hotel.
Donna has no idea her daughter invited her former paramours. Luckily her two friends, who sang beside her when she fronted the band Donna and the Dynamos, provide emotional support and the party is started when they break into the number "Dancing Queen," shimmering in jumpsuits resplendent with rhinestones, and the timing couldn't be better for stage and film fans alike.
"Momma Mia!," the longest running jukebox musical on Broadway, inspired a movie in 2008 and there's a sequel next month. The staging also is ideal because it takes place in an environment very similar to the one in the story. "Being outside is going to be great for our presentation of "Momma Mia!," says Malone.
"We have great San Diego weather and that will add a whole different dimension. It will be like we are all on an island watching a show." Sapper, a 26-year-old actress who last worked with Malone in Moonlight's 2016 production of "Titanic the Musical," agrees. "I don't think there is anything that beats being on the Moonlight stage at sunset," Sapper says.
"You see stars through the trees and so many people. There is a magical quality and it takes your breath away. We were blocking the opening number at rehearsal and the director, John Vaughan, said it will be sunset, so you'll get to see everybody in the audience. It's so cool to witness that energy and excitement at the top of a show. After the overture of the classic hits of ABBA, including "Momma Mia!' and "Dancing Queen,' we tell a story that happens during a wild and crazy 24 hours."
The wild and crazy starts when the three potential fathers, Sam (played by Robert J. Townsend, who also played Sam on Broadway), Bill (Lance Arthur Smith) and Harry (Jason W. Webb)] show up.
Sophie is filled with mixed feelings about meeting her father and sings, "Name of the Game," to express what she wants to say.
"Sophie is trying to figure out who her dad is and at one point, she gets to sit down with one of the potential fathers," Sapper says. "The other song I love is 'Slipping Through My Fingers.' It's a slow ballad and Bets (Donna) sings it when Donna and Sophie are getting ready for the wedding. There is something super beautiful about that. They placed the songs of the musical in a smart way. You get to really enjoy the songs but they also color and help tell the story. I'm probably going to cry and I know that Bets will make it extraordinary."
For better or for worse, weddings are packed with emotion, laughter and moments of deep human reflection about our roles in life-which explains the continuing popularity of "Momma Mia!"
And then there's the dress.
Sapper, who is not yet married in real life, reads aloud the description of her nuptial costume right from the script.
OK," she reports excitedly. "It says that it's a 'fabulous concoction of a girly-girl fantasy wedding dress.' I can not wait. I haven't tried it on yet. My guess is that it's not as big as Princess Diana's–but I'm excited and overjoyed to wear it."