Joseph G. McComb American Legion Post 146 in Oceanside celebrating its 100th Year as an organization on June 15th, 2019.
The American Legion, which is the largest primarily veterans and community service organization in the United States, is celebrating its 100th anniversary this year, so does Post 146.
Post 146 was first assembled on November 1st, 1919 at Mildred Hall in Oceanside by Col. B. N. Jones Jr. USA, SD county membership director; F. B. Harrison, Asst. Sec. of SD Post 1: and Bryon Walters of SD. At this meeting our first officers were selected, they were Charles H. Merrill as Chairman (Commander); Jack W. Hall, Vice Chairman, F. Dorsey Merrill, Secretary (Adjutant); R.G. Higgins and J.E. Clifford, Executive Committee.
During this meeting they registered over 60 veterans of the Great War to be the first Post in the US to have 100% membership of all eligible veterans in their designated area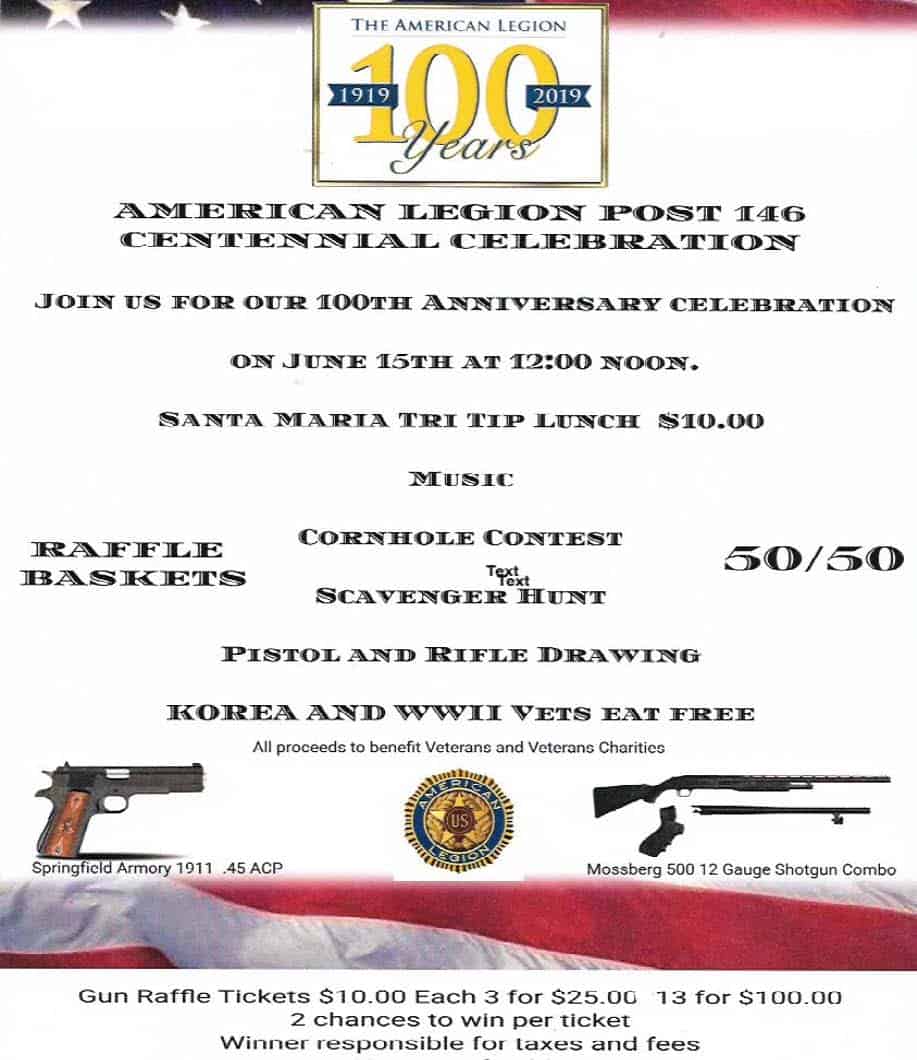 These members all became founding members of the American Legion. Any veteran or service member who enrolled before Nov. 11th, 1919 was designated a founding member of the Legion.
The final part of the meeting was the name of the Post. Each Post was named after a veteran who had perished in the Great War at this time. Posts established later were named after other service members that had passed. Most during an active period of combat designated by Congress.
Our post was named after US Navy Machinist Mate 1st Class, Joseph Gillis McComb who served aboard the Transport Ship U.S.S Pueblo (nee Colorado).
Petty Officer McComb was born April 23rd, 1893 in Stanton County, Kansas. His family moved to California shortly after the turn of the Century. He enlisted in the USNR in 1914 and was assigned on the Pueblo from Sept 1914 to his passing on Sept. 28th 1918. He was stationed in San Diego, doing patrols along the coast due to the instability in Mexico at that time. While stationed here, he met his wife Edythe Martin at the Pan American Exposition in 1915. Her father F.L. Martin was a prominent businessman in Oceanside. They married secretly on Oct. 25th, 1916 but were eventually outed by a close friend who read about the marriage in a San Bernardino newspaper. They had no children. In Oct. 1917, his ship was transferred to the Atlantic operating theatre, in which, his ship completed 8 transport missions across the Atlantic. On the last cruise, he caught the Flu, which had been extremely prominent at this time, then pneumonia and passed. The Flu had killed more service members in the Great War than combat.
Joe was the 1st casualty of the Great War for the Oceanside area. He was a member of the Baptist Church in Oceanside and very well known in the community by all.
During the first years, the Post held many dances for fundraising and sponsored 4th of July events with the City of Oceanside
They participated in final vespers of fallen comrades both from the Great War and other veterans in the community. They held memorial celebrations for Armistice Day (now Veterans Day), Decoration Day (now Memorial Day) and any other important function regarding veterans or community events.
The post purchased a plot of land in 1922 near the intersection Hill and 2nd St. (now Mission and Coast Hwy.) for a building to be constructed.
Our Ladies Auxiliary was formed on April 1st, 1920. They have been active in community ever since. We started a Sons of the American Legion in 2014 and an American Legion Riders Chapter in 2008. The chapter is Legionnaires that ride motorcycles as a hobby and participate and perform many fundraising events.
Our Post has been active member in the community. We have been a member of the Oceanside Chamber of Commerce since 1992. We have participated in the 4th of July parade every year. We support many programs for the Veterans and Community. These programs are Cub Scout Pack 7146, American Legion Baseball team, School Medal Programs, Boys State, Constitution Oratorical Contests for HS students(the latter 3 for college scholarships), Flag Retirement Ceremonies in conjunction with the OFD, Veterans observance holiday ceremonies, Escorts and Flaglines for veteran funerals, Wreathes Across America, Homes for Heroes, Wounded Warrior Homes, Veteran Service Officers and many more programs. We provide service hours to the local VA clinic, Military Appreciation Day, North County Stand-Down(supports homeless veterans), and other community needs when needed.
Our post currently has 430 members, for which, we remain strong and continue to grow to support our veterans and community for the next 100 years
.