By Connor and Bri McFadden
Like many of you, we too are sad to see another Moonlight summer season come to an end. Yet true to form, Moonlight finished strong and closed this season pulling out all the stops with a performance of Chicago. (Fun fact: Chicago is the longest running American musical on Broadway and the second longest running show in Broadway history, second only to Phantom of the Opera.) As we settled into our seats, the brisk September night soon lost its chill as the cast laid on the heat in the opening number "All That Jazz." Before you could blink, a sea of sultry dancers all dressed in black took over the stage in their skin tight pleather pants, mesh tops, and lingerie. And was just the opening number!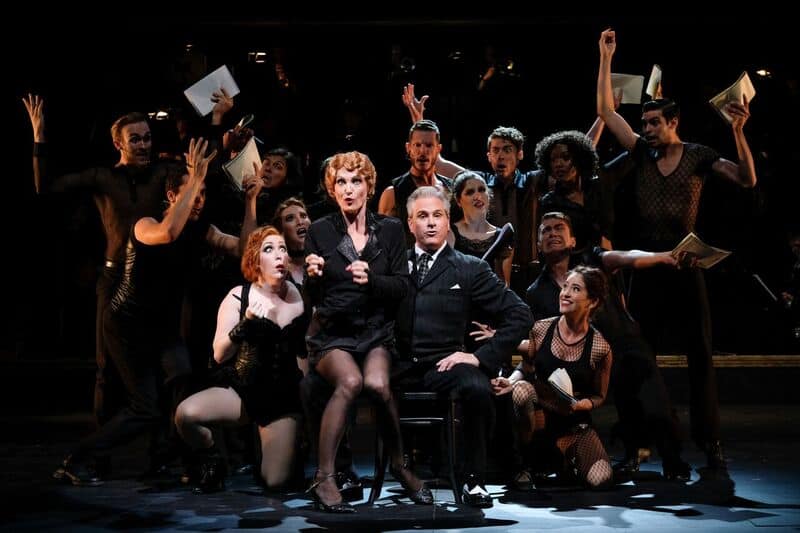 The stage was surprisingly simple as far as musical theater goes, but the simplicity removed all distraction, allowing the audience to be completely focused on the upbeat-swinging music and hot jazz dancing, which left us captivated by the talented cast. What made this production great is the band is not in "the pit," but right on stage, front and center, for the entire show! The band filled a four towering tier structure, creating a lively backdrop, proving the music to be the star of the show as conductor Kenneth Gammie directed with passion and precision. Kenneth has been conducting with Moonlight from the very beginning. He will be retiring after this production. He even has several lines as he interacts with the cast and the audience.
Roxane Carrasco, expertly cast as Velma Kelly, has a dynamic presence from the very beginning as she commands the stage in her dominating performance of "All that Jazz" and continues to tap and twirl her way into the audiences hearts in "I can't do it alone" and "When Velma takes the Stage."
Terra C. MacLeod convincingly mastered the character of Roxie Hart especially during her rendition of "Roxie" as she giggled and flirted with audience members while passing out newspapers with the headline screaming "Roxie Rocks Chicago!" Humor and playful emotion poured from the stage during the puppeteering duet "We Both Reached for the Gun" sitting in the lap of greedy lawyer Billy Flynn, played by David Engel.

Amos Hart, magnificently played by Randall Hickman, receives the biggest laughs of the night but then suddenly moves you to tears in an unforgettable moment in his touching performance of "Mr. Cellophane." He belts out in full voice a final note with such a long duration the audience began applauding, stopped, and as he was still holding out the note, the applause roared again. The joke of the night is when cast members call for their exit music, Amos not only is left to walk off the stage in silence, but he is also locked out of the building and has to go around the stage to complete his exit.
This is our last article for the year. As we say goodbye, we know everyone loves a happy ending so we will close this article with Moonlight's 39th production summer season for 2019. There is so much to look forward to next summer! The Producers, Matilda, West Side Story, and Victor Victorious, to name a few. Stay connected and in the loop by visiting their website so you can be assured you won't miss any of the action