On Wednesday evening, August 21, 2019 from 5-9pm, the first nighttime Car Show was held on Main Street in Vista Village in front of the Cinepolis Theater. There were about forty muscle cars of all years and colors and each entry was counted for the Best of Show and Peoples Choice award at the end of the evening. Music filled the air along with ou's and ah's and the surrounding businesses enjoyed the extra crowd for this busier than usual evening. The weather was perfect and the car enthusiasts enjoyed strolling through the block while visiting with others and talking to the car owners.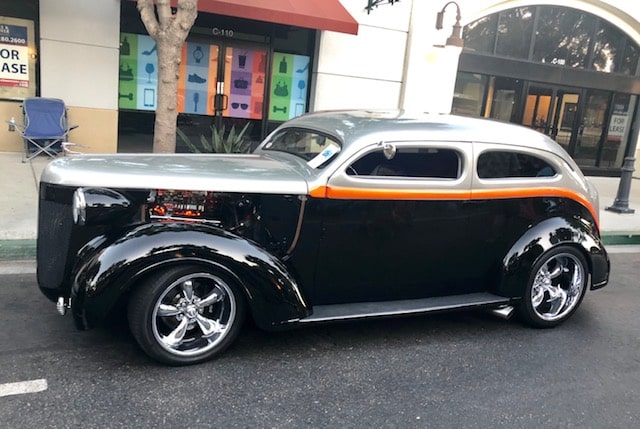 The Muscles on Main Street Best of Show winner was Steven Shapiro, with his 1937 DeSoto Hot Rod from Fallbrook, CA. He has owned the car for four years.
The Peoples Choice Award winner was Ricardo Zavala with his blue '64 Chevy Impala Convertible.
The event was presented by the Pride of Vista Lions Club. The raffle prizes were given away and the lucky 50/50 winner received $50. The proceeds will benefit Lions Charities.
Tell your friends and family and mark your calendar for the next Muscles on Main Street which will be held in the same location on September 11, 2019 for Heroes Night.
About Pride of Vista Lions Club
"We Serve"
We are Vista business owners and residents who are dedicated to serving our community.
Chartered in 1992, the Pride of Vista Lions Club serves the community through a variety of projects.
Our earliest community endeavors included purchasing and installing playground equipment at Olive Elementary and painting at Lifeline Community Center and Girls, Inc.
Now….. We support many programs to serve our community.
Sight Program
Through school nurse referrals, we provide eye exams and eyeglasses as needed to Vista students. We also serve adults referred through local nonprofits.
Since 2003, we have provided over 700 eye exams to students and adults.
In addition, recycled eyeglasses are refurbished and distributed to people who need them.
Lions Clubs International is the world's largest service club organization with more than 1.4 million members in approximately 46,000 clubs in more than 200 countries and geographical areas around the world.