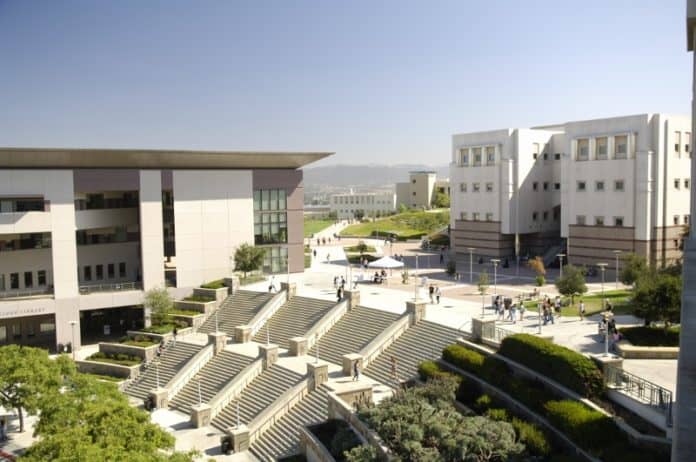 CHICO, Calif. – Cal State San Marcos Athletics had 92 student-athletes named to the 2018-19 California Collegiate Athletic Association (CCAA) All-Academic Team, the league announced on Tuesday.
"Our student-athletes continue to strive for excellence academically," said Director of Athletics Jennifer Milo. "I'm beyond proud of each and every one of them for working hard to represent their teams and CSUSM in the best light."
To qualify for CCAA All-Academic honors, student-athletes must be a varsity letter winner who competed in one of the 13 CCAA-sponsored sports (men's and women's cross country, men's and women's soccer, women's volleyball, men's and women's basketball, men's and women's golf, men's and women's outdoor track and field, baseball and softball) during the 2018-19 academic year.
In addition, student-athletes must achieve a grade-point average of 3.40 or higher in a minimum of 24 units.
CSUSM finished second in the CCAA for the second consecutive year behind only Cal State Monterey Bay, who finished with 96.
2018-19 CCAA All-Academic Honorees by School
1. Cal State Monterey Bay – 96
2. Cal State San Marcos – 92
3. Chico State – 91
4. Humboldt State – 75
5. Cal State East Bay – 72
6. Sonoma State – 71
7. San Francisco State – 70
8. UC San Diego – 70
9. Stanislaus State – 68
10. Cal Poly Pomona – 59
11. Cal State Dominguez Hills – 51
12. Cal State San Bernardino – 37
13. Cal State LA – 33
CSUSM 2018-19 CCAA All-Academic Award Winners
* = Participated only on the track & field team
^ = Participated only on the cross country team
BASEBALL (8)
Domenic Antonacci
Grant Buck
Brady Corson
Jared Dinisi
Anthony Rodriguez
Adam Tanoue
Griffin Teisher
Dylan Wannamaker
MEN'S BASKETBALL (3)
Alec Frank
Bryce Sloan
Dalton Soffer
WOMEN'S BASKETBALL (3)
Stephanie Custodio
Cheyenne Ertz
Akayla Hackson
MEN'S CROSS COUNTRY/TRACK & FIELD (6)
Nate Hale, Jr.*
Nick Heid*
Joshua Litwiller
Tyler Luis*
Tim Stalboerger*
Shea Vavra
WOMEN'S CROSS COUNTRY/TRACK & FIELD (20)
Camille Carmouche*
Shareen Estremera*
Victoria Ethridge*
Alyssia Gonzalez*
Jenna Hernandez*
Sierra Julian*
Olivia Krog*
Emily Miller*
Betsabe Reyes*
Lisa Flora^
Clarissa Garcia
Arianna Garcia-Swantek
Brianna Gutierrez
Marina McDonough
Jenna Rosendin
Kylene Shuler*
Rachel Sjolie*
Dezirae Soria
Audry Valencia*
Lauren Wyckoff*
MEN'S GOLF (3)
Ben Hume
Daniel Kim
Randy Vergel de Dios
WOMEN'S GOLF (8)
Bergen Benedict
Sarah Garcia
Claire Hogle
Breann Horn
Jaime Jacob
Emily Lichty
Savannah Magallon
Joan Park
MEN'S SOCCER (8)
Danny Guzman
Marcos Lopez
David Martin
Bryan Morrison
Noah Park
Juan Camilo Salazar
Andrew Stalboerger
Isaac Swenson
WOMEN'S SOCCER (18)
Hannah Arcala
Yesenia Betancourt
Madisen Bivens
Madyson Brown
Peyton Burt
Bailey Cockrill
Katie Connor
Meredith Curran
Emilee Garrett
Elizabeth Maass
Gabi Manno
Jessica Moreno
Emma Moses
Lauren Perry
Danielle Wiens
Haley Willhelm
Amy Wilson
Sammy Zanini
SOFTBALL (9)
Nikki Andelin
Kat Calderon
Kammy Fisher
Melody Forstie
Raven LeClair
Aliya Machrone
Skie Munoz
Brittney Scardina
Carly Slack
VOLLEYBALL (6)
Nicole Diggs
Micah Hébert
Courtney Hulla
Lauren Lee
Haley Montgomery
Eliana Williams