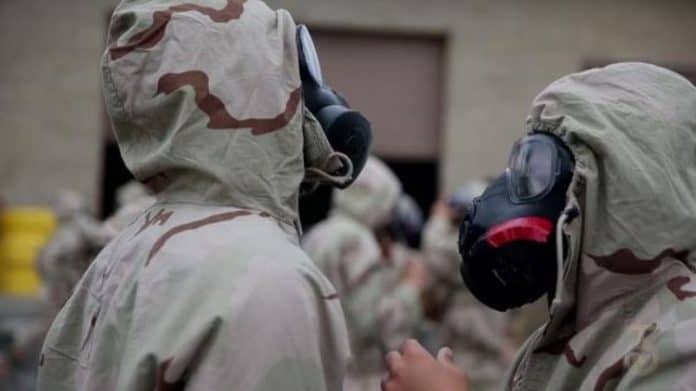 By Sgt. Jeremy Laboy| Marine Corps Base Camp Pendleton
MARINE COPRS BASE CAMP PENDLETON, Calif. —
In combat, the potential for chemical warfare can become a genuine threat in an area of operations and harmful to everyone in the vicinity. In the Marine Corps, chemical, biological, radiological, nuclear (CBRN) specialists are the first line of defense when it comes to any CBRN threat that may occur.
U.S. Marine Corps Sgt. Bruce Luu, CBRN specialist with I Marine Expeditionary Force (MEF) Support Battalion, I MEF Information Group (MIG), with the assistance of fellow CBRN specialists offer a course designed to train Marines on how to provide reconnaissance surveillance and decontamination (RSD) in a CBRN environment.
"Having a team of specially trained Marines in CBRN defense RSD techniques strengthens the overall operability and survivability of the unit in a contaminated environment," said Luu.
You don't have to be a CBRN specialist, have the military occupational specialty (MOS) or background in CBRN to attend the course. The course is open to all Marines.
The five-day course, developed for corporals and below, although Luu is willing to teach any rank that desires to know the ins and outs of the discipline.
The course provides proper training in reconnaissance and surveillance techniques of a contaminated area, hands-on familiarization with agent detection and decontamination equipment, agent identification, protocol on prevention and large scale troop and vehicle decontamination.
"I'm excited about this course, so far, we've learned quite a bit including the gear used to detect harmful agents and procedures for decontamination," said Lance Cpl. Patrick Crosley, combat videographer with Communications Strategies and Operations section, I MIG.
Luu hopes for further opportunities to teach the course to not only expand their abilities but also provide an additional asset to units and commanders regarding CBRN defense.
"This training overall makes a more versatile Marine and [expands knowledge] in different fields," said Luu. "It allows them to be more self-sufficient when approaching new commands and environments and allows them not to have to rely on other units or assets."
Additional courses like this are available all over the Marine Corps, and anywhere there is a CRBN unit.