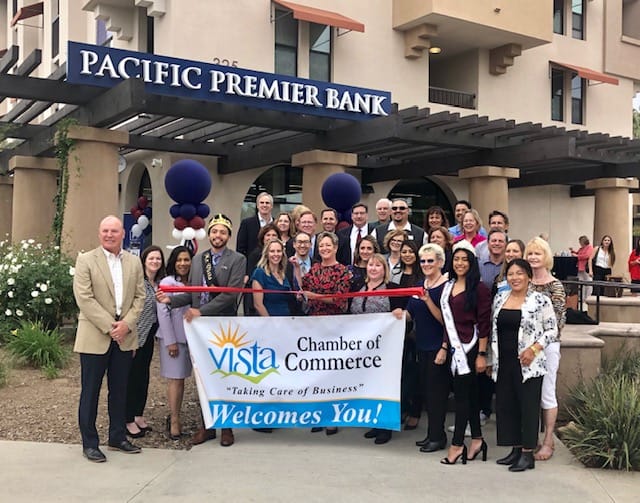 On May 15, 2019, Pacific Premier Bank welcomed clients, guests, residents, city officials, business owners and the Vista Chamber of Commerce to celebrate their Grand Opening and Ribbon Cutting. This newest branch is located at 325 South Santa Fe Ave., Suite, 101, Vista, CA 92083. Everyone mingled and enjoyed complimentary hors d'oeuvres and beverages, and entered to win prizes. The Vista Chamber then gathered everyone together for a group photo and ribbon cutting. Recently ranked as one of America's Best Banks by Forbes, Pacific Premier in San Diego County has served the over 100,000 Vista residents since 2004.

About Pacific Premier Bank
Pacific Premier Bank is one of the largest banks headquartered in Southern California with approximately $11.6 billion in assets. Premier Bank is a business bank primarily focused on serving small and middle market businesses in the counties of San Diego, Orange, Los Angeles, Riverside, San Bernardino, San Luis Obispo and Santa Barbara, California, as well as markets in the states of Arizona, Nevada and Washington. Through its more than 40 depository branches, Pacific Premier offers a diverse range of lending products including commercial, commercial real estate, construction, and SBA loans, as well as specialty banking products for homeowners associations and franchise lending nationwide. Pacific Premier Bank, Member FDIC.