Night work is scheduled to take place at Poinsettia Station in Carlsbad from Tuesday, June 26 through early morning Saturday, June 30. Crews will be working on utility and signal housing improvements as part of the LOSSAN Poinsettia Station Improvements Project.
To accommodate construction of the new Poinsettia Station platform, crews will conduct electrical work Tuesday and Wednesday nights from 9 p.m. to 5:30 a.m. several hundred feet north and south of the station platform. Additional overnight work is scheduled for Thursday from 9 p.m. – 5 a.m. and Saturday morning from 12 – 5 a.m., to relocate the signal houses at the north and south ends of the platform.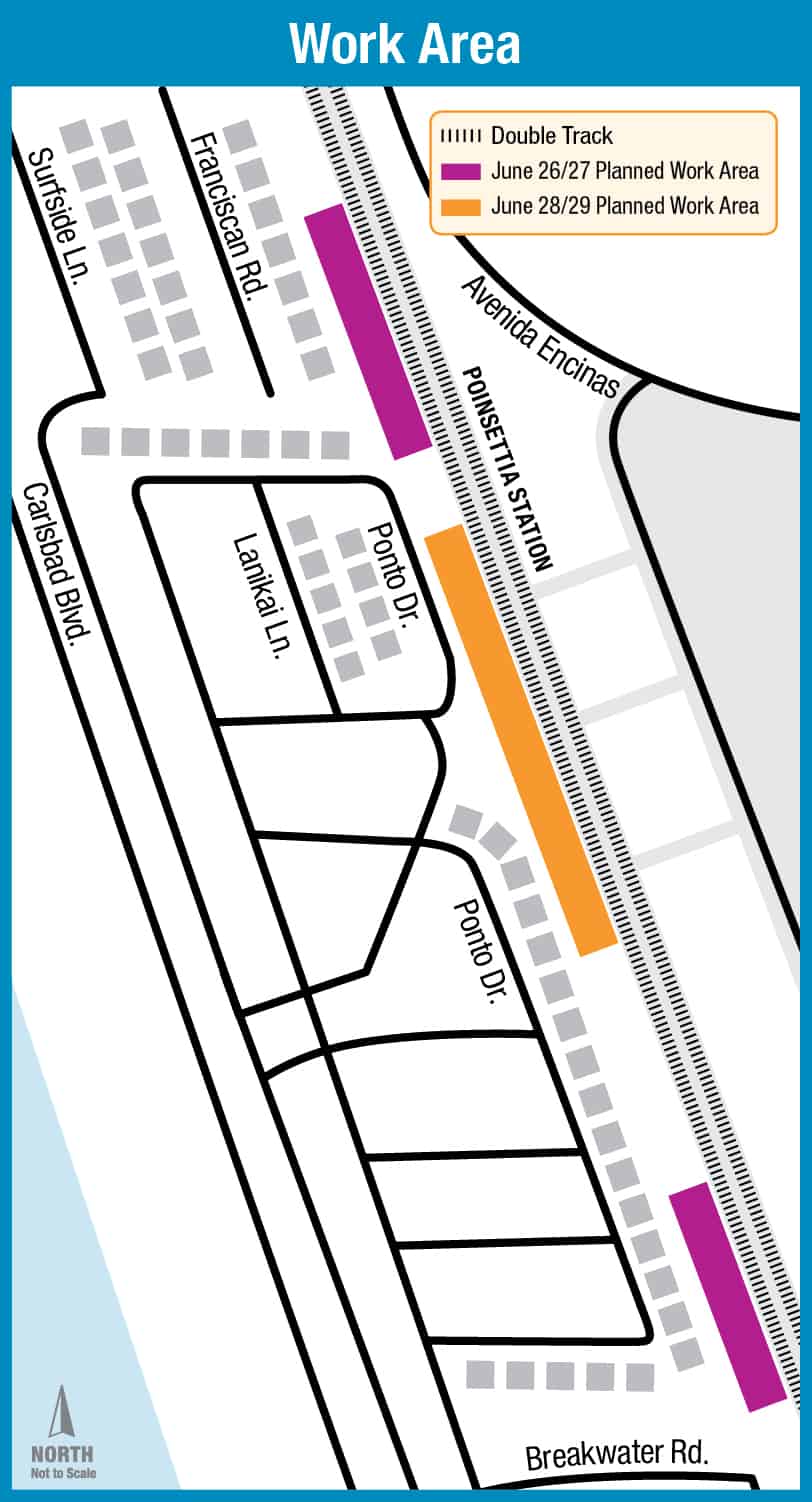 During construction, nearby residents and businesses can expect intermittent construction noise, such as equipment running, the off-loading of material and back-up alarms, and construction lighting. Residents near the site also can expect to see construction equipment and vehicles moving in and out of the work areas. Travelers using the COASTER may experience weekend service interruptions several times per year. All reasonable steps will be taken to minimize impacts to residents and travelers.

Federal regulations require the train engineer to sound the horn when approaching an active construction site, even in a quiet zone. Train horns serve as a warning system to ensure the safety of railroad workers. More information and rules governing the use of train horns can be found on the Federal Railroad Administration's website at www.fra.dot.gov.
Please note, back-up alarms for all vehicles and construction equipment are required per the Occupational Safety and Health Association (OSHA).
About the Project
The Poinsettia Station Improvements project will lengthen and elevate passenger platforms, install a fence between the tracks within the station, relocate a section of the existing tracks, and replace the existing at-grade rail crossings with an undercrossing featuring stairways and ramps on both sides of the tracks. Additional station enhancements will include new shelters, signage, and updated lighting. Construction is anticipated to be complete in 2020.
The project is a key part of the larger effort to improve and modernize rail infrastructure along the LOSSAN coastal rail corridor as part of the North Coast Corridor Program.
Please visit the webpage at KeepSanDiegoMoving.com/PSI to learn more.